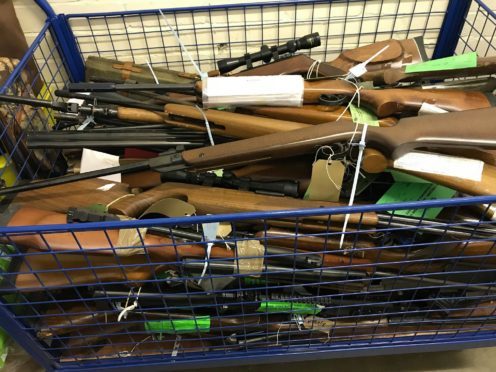 More than four guns a day have been surrendered to north-east police since a nationwide weapons amnesty was launched this week.
Residents across the region handed in a haul of 10 air guns, five shotguns, two rifles and five pistols since the #gunssurrender campaign began on Monday.
The amnesty lasts until Sunday, July 1 and guns and ammunition can be disposed of at any police station without fear of prosecution.
In addition the public will be able to hand over replica firearms, air weapons, BB guns, imitation firearms, component parts and other ballistic items.
Assistant chief constable Bernard Higgins, of Police Scotland, said: "Protecting the public sits at the heart of everything we do and the purpose of the Firearms Surrender Campaign is to remove firearms from criminal availability, thereby reducing the risk of harm to the public and our communities.
"Similarly if people still have unwanted air weapons that are unlicensed, or have come across old firearms while clearing out a house, these can be surrendered during the campaign.
"We want to reassure the public that all reasonable steps are being taken to reduce the amount of illegally held firearms within the public arena."
Justice secretary Michael Matheson said: "Firearms offences are at historically low levels in Scotland.
"Nonetheless, there is always a risk that unused or unlicensed firearms could fall into the wrong hands."
Lord Advocate James Wolffe QC said: "Anybody surrendering a firearm or other relevant item during Police Scotland's two week campaign will not be prosecuted for simple possession of the item.
"The immunity only applies to handover of the weapon and not to any other offence it may be linked to after examination."
Conservative north-east MSP Tom Mason has previously spoken out about the level of knife ownership in Aberdeen.
He said: "The north-east division should be commended for a very effective policy of getting weapons out of homes and off the streets, where they do not belong.
"And in rural areas, it's vitally important for shotgun owners to keep up to date with paperwork.
"If you are in doubt, turn your weapon in to the police.
"Outside of these amnesties, you can and will be prosecuted."