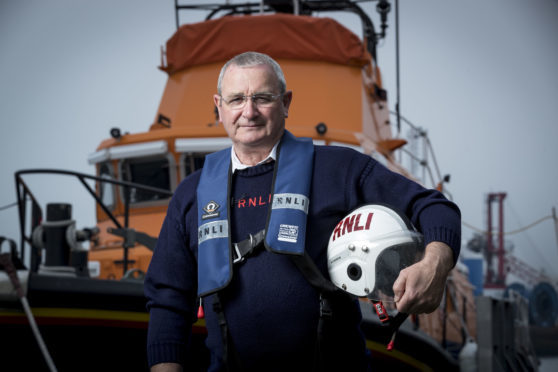 Hoaxers firing flares above an Aberdeen river estuary have been slammed for wasting vital emergency service resources – for the third time this year.
Aberdeen's all-weather and inshore RNLI lifeboats were paged by the Coastguard just after 10.30pm on Wednesday to investigate reports from airline pilots that bright-red distress flares had been observed above the mouth of the River Don.
Both of the lifeboat crews scoured the area for more than an hour and, despite decent weather conditions, nothing was found and the expansive search was stood down at about midnight.
It is now believed the incident was caused by malicious hoaxers.
This week's search is the third time this year that the RNLI has been forced to head out to sea after flares were reported at the River Don.
On July 10, the volunteer crews were called out to the same location after red flares were seen at about 9.35pm – however, nothing was discovered.
And the 10-strong crew was earlier this year forced to dispatch both lifeboats to the area in the early hours of March 9 after a flare was seen.
They were out searching for two hours before returning to their station.
Bill Deans, operations manager of the Aberdeen RNLI, said: "The multiple sightings, and their professional origins suggest these reports were genuine – that real flares were seen.
"If, as seems possible, someone is firing flares irresponsibly, this needs to stop.
"Tying up search and rescue resources responding to hoax distress flares could endanger the life of someone who really does need help."
Tillydrone, Seaton and Old Aberdeen councillor Alexander McLellan said: "It's extremely disappointing that this kind of disrespectful behaviour takes place at the mouth of the River Don. The individuals responsible are not just wasting the important resources of the lifeboat crews, but they are potentially risking the lives of people at sea who might urgently require their assistance.
"If anyone knows who has been setting off these hoax flares, please contact the authorities."
The RNLI is a charity, and relies on volunteers to carry out its life-saving work.
To find out more or to donate visit www.rnli.org