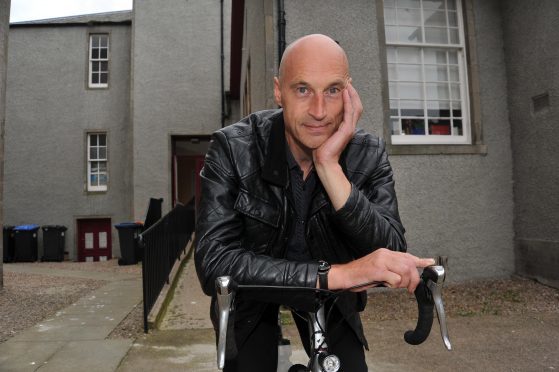 He's the Scottish cycling star who became a world-record-breaker and inspired a film about his remarkable story.
And now, the mercurial Graeme Obree will close TechFest 2018 with a motivational talk about his legendary career at Aberdeen University on Saturday.
Obree made the rapid journey from club cyclist to international star in 1993 when he smashed the UCI World Hour Record using a bike named 'Old Faithful', which he created from washing machine parts.
He subsequently went on to break the record again in 1994 and was the individual pursuit world champion in 1993 and 1995.
Regarded as a maverick figure for his unorthodox techniques, he established a new global record for cycling in prone position in 2013, using a bike constructed in the kitchen of his Ayrshire flat.
These days, he has lost none of his flair or love for new challenges. And he has urged north-east youngsters to follow his example and blaze their own trail.
He told the Press and Journal: "I became a world champion though the odds were stacked against me, so I hope I can demonstrate that with the right mindset and processes, people can apply themselves to make their dreams a reality.
"When I was young, I loved science and discovering how the world works has been fundamental to my life.
"I took decisions to radically alter my perspective on cycling, bike position, training, nutrition and training psychology, all influenced by my regard for science.
"Science can be compelling and wonderful and there is something in the broader subject of science that will be appealing to all.
"Above all, I believe if you have a passion for something, then you have the opportunity to excel and push your own personal boundaries."
Obree's autobiography The Flying Scotsman was the source material for a movie of the same name, starring Jonny Lee Miller.
And in his talk at the Arts Lecture Theatre, he will share stories from his incredible journey and provide advice on how people can work to achieve their goals."
He never asked for favours from anybody on his peripatetic crusade to sporting immortality. And Obree had a short, sharp message for youngsters looking to create headlines of their own.
He said: "Don't dither. Life is short and opportunities do not always re-present themselves. If you are passionate about something, willing to make the effort and make a sacrifice, the chances are your life will be enriched.
"But it is not only about success. Sometimes, the disappointment of not achieving your goal can become the overarching proxy to reach a new level of performance or understanding.
"Dreams, inquisitive mindsets and learning seem like a good mix to me."
Obree has been a genuinely unique force of nature throughout his life. He's still driving himself – and others – forward on a ceaseless quest.
You can book tickets online at www.boxofficeaberdeen.com or call Aberdeen Box Office on 01224 641122.