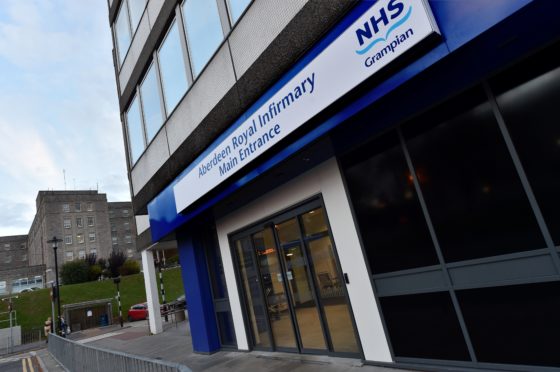 NHS Grampian has apologised to a patient whose health suffered as a result of the medication she was given as medics investigated a possible heart disorder.
The Scottish Public Service Ombudsman (SPSO) found no fault with the initial steps in the treatment of the woman – known only as Ms C –  but concluded that doctors had failed to properly review her care.
She suffered from side-affects as a result of the drugs she was prescribed and her health only improved when she sought a private opinion and they were finally discontinued.
An investigation also found that at no time had her case been reviewed by a cardiologist – a doctor specialising in heart disorders.
The woman received treatment at Peterhead Hospital and Aberdeen Royal Infirmary for what was initially suspected to be angina.
During her treatment, she complained about the medication received for heart issues.
Ms C was subsequently admitted to hospital on two separate occasions during which the medication continued.
After seeking a private opinion, however, the patient was informed she has no heart problem and the medication ceased.
Her health improved as a result of the withdrawal.
---
---
She subsequently complained she was unreasonably prescribed heart medication which was not kept under regular review, prompting the SPSO investigation.
It found the initial prescription was appropriate due to Ms C's chest pain symptoms.
However, the SPSO found there was a failing by NHS Grampian to keep Ms C under review while awaiting the outcome of further investigations on her heart while she was an out-patient.
It said: "Doing this may have identified that she was suffering from potential side effects of the medication.
"There was an incident on discharge from hospital that Ms C had been prescribed two calcium channel blockers (medication to relax and widen the blood vessels) which was inappropriate, although it was unlikely that harm was caused due to the low dosages involved.
"We also found that there were failings in record-keeping regarding discussions with cardiology staff and that it would have been advisable that Ms C should have been physically examined by a consultant cardiologist.
"We considered that the board failed to keep Ms C's medication under review and upheld this aspect of her complaint."
The watchdog organisation recommended the health board apologise to Ms C for the failure to keep her under review during cardiology investigations and for the failure to recognise that she had been discharged from hospital while on two types of calcium channel blocking medication.
The SPSO also recommended staff be aware of reviewing patients in this situation and that pharmacy and ward staff should be aware that medication of discharged patients is appropriate.
An NHS Grampian spokeswoman said: "It is clear we let Ms C down in this case.
"We accept the Ombudsman's recommendations and have written directly to Ms C to apologise to her."