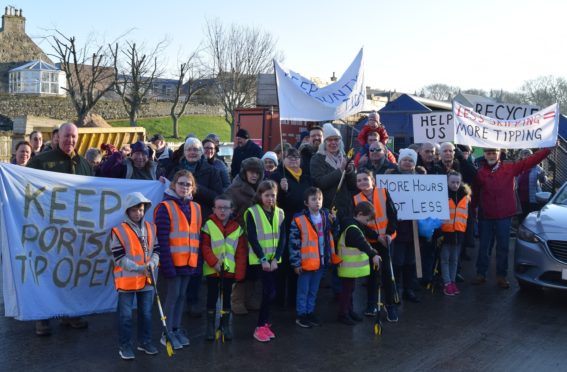 Portsoy residents held a protest at the weekend to hit out at council plans to cut the operating hours of their local recycling centre.
Nearly 100 people gathered on Saturday to show their support for the facility which was under threat of closure.
Council bosses announced last week that they would no longer be pushing ahead with proposals to shut down the centre.
A report due to go before the infrastructure services committee (ISC) this week has revealed that Aberdeenshire Council now intends to reduce the hours of operation instead from being open five days a week to just two days.
The service will be reduced at 11 recycling centres across Aberdeenshire.
However, local residents are objecting to the plans and say they are frustrated with the lack of consultation.
They stood holding placards emblazoned with the words "more hours, not less" and "less skipping, more tipping".
---
>> Keep up to date with the latest news with The P&J newsletter
---
The council report states that the Portsoy centre and another recycling facility in Insch, near Inverurie, will stay open due to "strong opposition" against the proposed closures.
It was claimed that Portsoy did not meet the tonnage requirements to continue its operation although it is now hoped that there will be an increase in the number of materials that can be recycled.
The report states: "Given that the improvements to the network of recycling centres must be made on a cost-neutral basis, and there is no external funding available,
other changes must be made to cover the cost of retaining the facilities at
Insch and Portsoy.
"It is proposed that this will be done by closing the 11 main recycling centres half an hour earlier Saturday to Thursday and an hour earlier on Fridays."
The proposals would save £500,000 of the £20 million the council is trying to claw back.
Portsoy Community Council chairwoman Caroline Hobbs said: "My big bug bear is that they have changed the strategy aim as it was originally about cutting CO2, increasing tonnage and only for sites within 10 miles of another.
"It seems to be about cost now and we've been made out to be the bad guys behind the cutting of other facility hours when really we're fighting for our skip. I'm furious.
"We hope we can encourage the council not to cut and change the hours."
Community council member Rod Lovie added: "The report is very disingenuous and we were given next to no notice of the changes and weren't consulted on what hours suit us.
"We're really concerned it's really just a step towards the execution of our skip."
An Aberdeenshire Council spokeswoman said the objective was not cost but to give all communities equal facilities.
The ISC meeting will be held on Thursday.