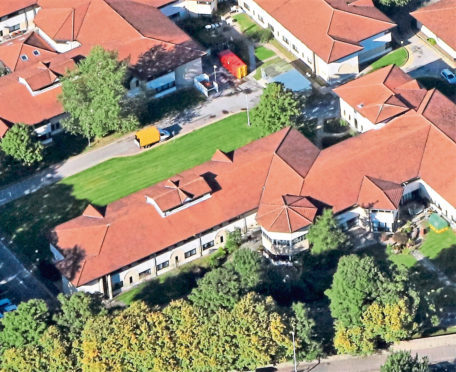 The safety of patients at a north-east psychiatric hospital has come under scrutiny after it was revealed police were summoned to assist with missing persons or absconding incidents more than 650 times in three years.
New data from the police shows officers were called to Royal Cornhill Hospital in Aberdeen on a total of 1,162 occasions between 20016 and 2018 for a wide range of purposes.
On 126 of the call-outs over the three year period, police were asked to attend due to concerns for a person, and 80 times for disturbances.
However, the most frequent reason police were called to NHS Grampian's flagship mental health treatment facility was for "Missing Person or Absconders".
---
>> Keep up to date with the latest news with The P&J newsletter
---
Last year, 233 reports were made to police of people going missing or absconding, with similar figures above 210 in previous years.
Officers attended at Cornhill 659 for such incidents over the three years.
Suggestions have now been put forward that security measures need to be reassessed in order to help protect patients at the hospital.
A spokeswoman for NHS Grampian said the number of such incidents reported annually had generally been the same for the past few years at Cornhill.
She said: "These figures should be seen in context.
"In an average year, we have 1,905 inpatients at Royal Cornhill Hospital.
"The figures have been stable over recent years, we work very closely with Police Scotland and have a good relationship with them.
"We meet with the police on a regular basis, where these episodes are discussed, and any concerns are raised."
A total of 41 call-outs over the three years were due to reports of assault, and 90 were to assist a member of the public.
False calls accounted for seven of the incidents.
North-East Labour MSP Lewis Macdonald said it was crucial that vulnerable individuals, such as those receiving support and care at Cornhill, were kept safe so their illnesses could be addressed.
He explained: "It is clearly right that the police give a high priority to keeping people safe, which can mean returning vulnerable people to care who have failed to come back of their own accord.
"As with all kinds of illness, so with mental illness – the more it can be identified and addressed early, the less the risk of it getting worse, and the less the risk of serious consequences for patients, families and public services."
Last year, NHS Grampian had to shut one of the wards at the hospital that treats adults with mental health conditions due to a lack of staff.
Liam Kerr MSP, shadow justice secretary for the Scottish Conservatives said the figures should prompt NHS Grampian to look again at its security measures.
He said: "These findings are alarming, and suggest that security procedures at Cornhill need to be reviewed.
"We know that there have been staffing shortages affecting the hospital, which may be a factor.
"However, this volume of call-outs will have a significant impact on local policing resources."