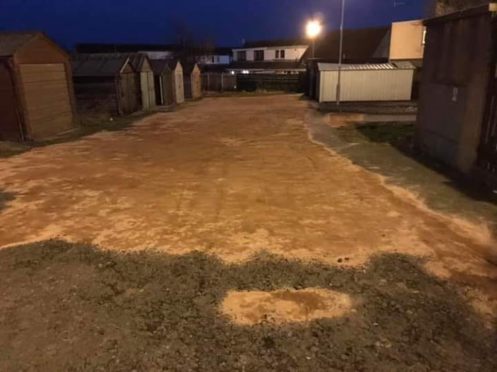 A cash-strapped city council has turned a road into a "sandpit" according to local residents.
Berrywell Road in Aberdeen was treated by council staff last Tuesday after complaints were made by locals.
Rather than completely repair the damaged street, the decision was taken to spread a "temporary layer" of granite dust.
The decision was then slammed by Dyce residents, who claim the road is difficult to drive on.
One local resident, who did not wish to be named, said: "It was first treated on Tuesday, then they were back to finish the mess off on Thursday.
"There were some bad pot holes there that had been there for five years, and it was finally treated with this shambolic mess.
"When the rain comes it will be a total mess as it's granite dust with sand running through it."
The resident added that bikers in the area had experienced difficulties on the street, which has garages on either side, and that their wheels were "sliding" on the slippery surface.
Responding to concerns raised, the council promised to re-visit Berrywell Road to work out costs to fix it properly.
A council spokesman said: "Due to the condition of the existing surface a decision was taken to spread a temporary layer of granite dust.
"Our officers are visiting the area next week measure the area in order to obtain costs for the resurfacing of the entire area."