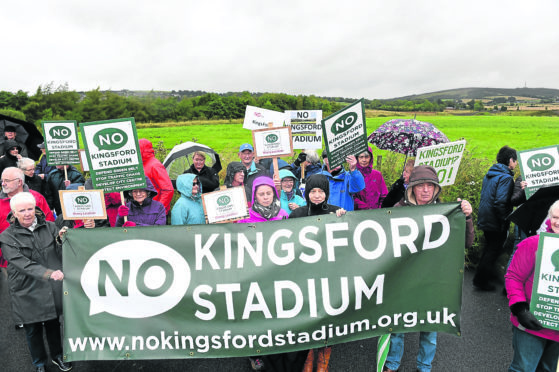 A group objecting to the new Aberdeen FC stadium at Kingsford has accused the developer of "unauthorised" dumping on the site.
No Kingsford Stadium (NKS) said that truckloads of waste from earthworks at Cairdhillock Farm at the site near Kingswells are being dumped in a field, changing the level of the land.
The group claimed the developer didn't have planning permission for the works stating that a previous application granted for the field had the condition attached that all "infilling" must cease by October 2003.
They claim the works represent an "unauthorised development" and said architects Halliday Fraser Munro had been unable to provide evidence to the contrary.
However, the stadium's project director Raymond Elgar said all parties had acted in good faith and insisted that current work on the site was lawful.
---
>> Keep up to date with the latest news with The P&J newsletter
---
He said: "The farmer, the contractor and the club have been acting in good faith after working to secure all the stringent clearances with SEPA.
"The planning consent, dated 1998, relates to the infilling of the site, which ceased in 2003 under the terms of that planning consent.
"However, the addition of surplus soil is part of the restoration plans of the site from landfill and have been undertaken in accordance with the agreed consents.
"This is outwith and predates the planning consent for Kingsford.
"We are awaiting confirmation from the council on the situation but are confident this matter will easily be resolved as no-one will want to see hundreds of trucks being used to transport tonnes of soil to be dumped somewhere else and not reused for agricultural purposes on adjacent land."
VIDEO: Check out this time-lapse of the construction so far on Aberdeen's new £50m stadium
An Aberdeen City Council spokeswoman said investigations were continuing.
She said: "We continue to investigate following complaints regarding potentially unauthorised development on land at Cairdhillock and are in discussions with the parties concerned, with a view to clarifying the planning status of the works.
"The investigation of any such matters will be undertaken as set out in our Enforcement Charter, and those who have reported a potential breach of planning control will be kept updated of progress accordingly."
NKS was formed to battle Aberdeen FC's plans for the new stadium and training facilities at Kingsford on the outskirts of the city.
However, following a lengthy legal battle at the Court of Session in Edinburgh – after Aberdeen council bosses approved the plan – their case was thrown out last month and the group said it would not appeal against the decision.
Work has already begun on the training facilities element of the stadium development, but NKS has called on backers to lobby councillors to ensure promised transport and parking conditions were met.