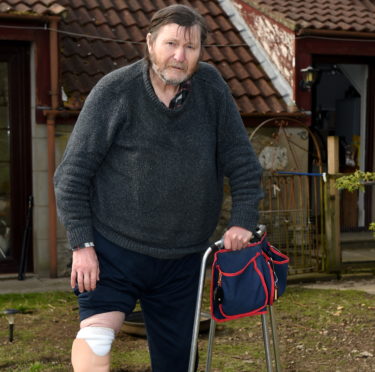 Health chiefs will look at the case of a north-east pensioner who says his quality of life has been ruined by the five ill-fitting prosthetic legs he has been given by NHS Grampian.
Reginald Bolton said he had suffered falls, fractures, wounds and been forced to undergo additional surgery as a result of the replacement limbs.
The 72-year-old, who lost his right leg as a side-effect of diabetes, said the latest £5,000 example had made him feel as if he was "walking around on a banana" and left him largely incapacitated.
NHS Grampian is looking into the complaints.
Mr Bolton, who lives near Cairness House, four miles from Fraserburgh, had his right leg amputated below the knee in 2013 after contracting a bone infection following the surgical removal of toes due to diabetes-induced gangrene.
He has since been provided with five prosthetic legs. Mr Bolton says none have fitted properly, adding the NHS has told him he will not be given another.
Mr Bolton said the first leg he was issued had no secure attachment and, after three appointments to deal with the issue, it fell off one night, causing him to fall and break his hip.
In 2017, due to rubbing of the second prosthetic, Mr Bolton developed an open wound and required surgery to sort the problem.
He was discharged in November with a new trial leg, but says it too was ill-fitting.
The 72-year-old was issued another limb, but this has now caused a similar open wound due to rubbing.
Mr Bolton now struggles to stand without the use of a frame.
"I don't know what to do," he said. "I don't want to moan but this is ruining my life – they've made me a cripple.
"At my last appointment, I showed them the wound which is dressed by nurses three times a week but they're not giving me another leg.
"They want to refer me for plastic surgery to cure it, but when I wear the prosthetic again, as my stump has shrunk, there will just be more rubbing.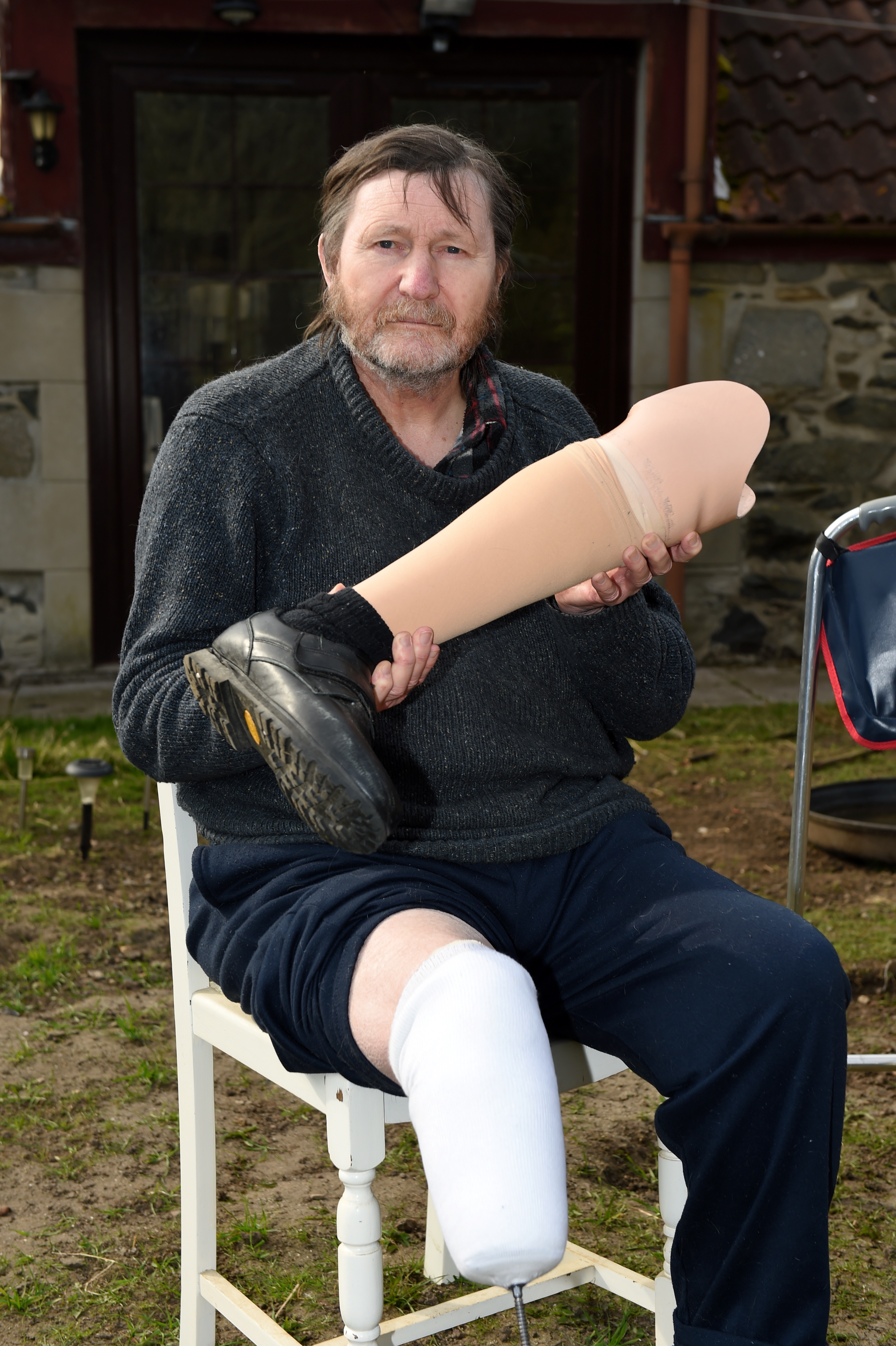 Since 2013, Mr Bolton has contracted a bone infection in his left leg but refused amputation due to his experiences. It was successfully treated with antibiotics.
Due to the issues he has now had to give up driving, hand back his motor scooter and arrange additional day-to-day help as he has very little mobility and struggles to stand.
And as a type one diabetic since 1965, who used to be an active sports player, his blood sugar levels are becoming hard to control.
The retired accountant said: "I get no exercise compared to my past decades playing squash and it's making the diabetes hard to control.
"My life has been reduced to sitting and watching TV. I'm depressed about the situation and my failed ambition to walk relatively normally.
"It's difficult for me to comprehend that I don't have a normal life now."
Mr Bolton wrote to NHS Grampian to complain about the situation and is awaiting a reply.
A spokeswoman for NHS Grampian said: "We are sorry to hear Mr Bolton is unhappy with his treatment and his prostheses.
"We can confirm he has written to us to raise his concerns.
"We are currently investigating this matter and will respond to him directly.
"While this investigation is taking place, it would be inappropriate to comment further."