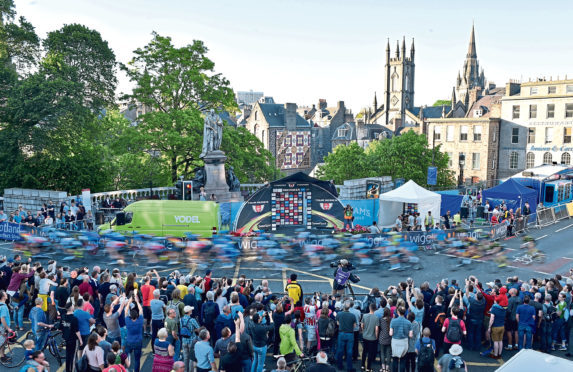 Aberdeen council bosses have written to city centre residents warning their cars could be towed if they are illegally parked during the anticipated tour series cycle race.
Road restrictions will be put in place for the third instalment of the annual event on May 16.
The televised event is expected to attract thousands of spectators with many of the city's streets expected to close as bikers pass some of the Granite City's most iconic landmarks, including Marischal College, the art gallery and Music Hall.
Major throughfares like Union Street, King Street, Market Street and Belmont Street will be either closed or restricted.
And a letter sent out from the local authority warns that there will be little mercy for any illegally parked vehicles.
It reads: "King Street will be closed between 6am on Thursday, May 16 and 1am on Friday, May 17. There will be parking suspensions on all parking spaces between 8pm on Tuesday, May 14 and 1am Friday, May 18.
"City wardens will patrol this area to ensure the parking restrictions are enforced.
"Vehicles found to be contravening the restrictions will receive the appropriate fixed penalty and will likely be removed at the cost of the owner.
"We would encourage you to relocate your vehicle from the impacted streets prior to the traffic order commencing.
"Aberdeen City Council apologise for any inconvenience this may cause and thank you in advance for your cooperation. I hope you have the opportunity to support this exciting event in Aberdeen."
To see a full list of road restrictions please visit aberdeencity.gov.uk/tourseries or phone 01224 522956.