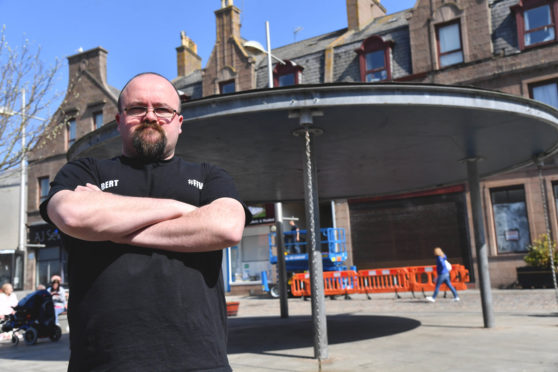 Plans to install a dedicated CCTV system covering Peterhead town centre have moved a step closer to becoming a reality after the scheme secured almost £80,000 in funding.
The money will go to the Rediscover Peterhead business improvement group, which will take on the project.
The system will cover a defined area within the centre and images will be beamed back to the local police station.
The £79,000 cash boost was distributed as part of a £2.7 million allocation from the Scottish Government's town centre fund which will be used to support growth in the hearts of communities across the country.
Businesses in Peterhead have been calling for the town to have its own CCTV network since a string of break-ins during November and December.
A petition was handed out to retailers and gathered more than 800 signatures before being presented to council bosses in February.
Gilbert Burnett began the campaign for the cameras and started the petition after his Buchan Aquatics store on Broad Street was targeted.
Last night, he said that, while the funding was a boost, he believes it might not be enough to cover the full cost.
Mr Burnett said: "It seems as though it will be going ahead and it can't be a negative thing for the town.
"I'm not under any illusions it will be put a stop to anti-social behaviour, but it can't do any harm.
"In one sense £79,000 is a magnificent sum of money, but if the job is quite expensive it could just be a third of the amount needed."
The Room 7 salon in Rose Street was one of the premises targeted by an apparent break-in in November.
The business was robbed of more than £1,000 of products and a charity collection tin.