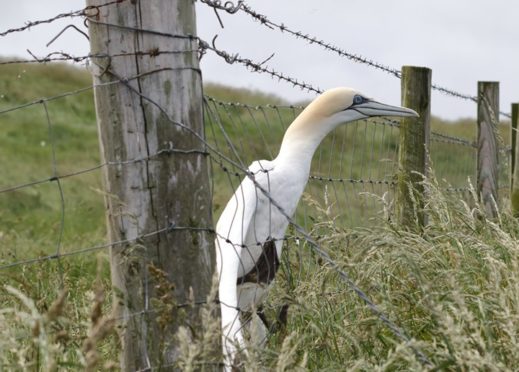 A photographer has described being chased by an irate gannet after he rescued it from a wire fence.
Wildlife photographer Peter Lewis and fellow snapper Mark Strachan had been walking to the coastal route at Troup Head, near Pennan, in the hope of taking pictures of some gannets.
The large birds are common in the area and the spot at Troup Head has been recognised as one of mainland Scotland's few gannetry, with 1,500 pairs.
But while walking to the dramatic cliff-top path, the pair spotted a gannet with its head stuck in a wire fence.
Mr Lewis called the Scottish SPCA but was worried the distressed bird may get hurt and decided to free it.
But the angry bird kept snapping its large beak at him, adding to the challenge.
Writing on Facebook, Mr Strachan said: "He freed the bird, which was a struggle as it kept trying to snap at him each time he tried to free it.
"Eventually when he gets it free I thought he was being chased by the police with the speed he ran away as the gannet chased him along the park.
"But all ended well as the gannet took off back to the sky where it belonged."
The men think the gannet had got caught in a gust of wind and forced into the fence.
Mr Lewis said: "I thought about going to grab a dog blanket from the car but it was flapping about so much I didn't want to waste time and we had no idea when the Scottish SPCA would get there.
"So, I decided to try and get its neck back through that wire square.
"These birds are really big close up – their beaks are massive.
"I think I might start carrying gloves with me just in case."