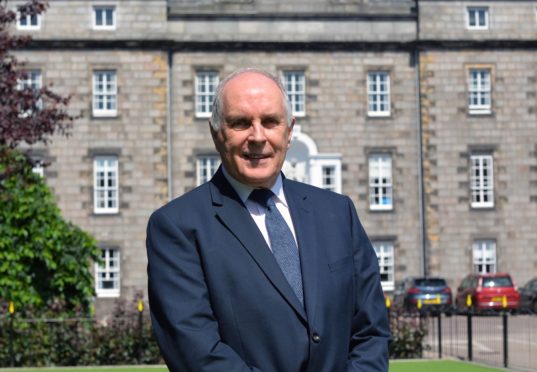 Arthur Jamieson had meant to stay at Aberdeen's Robert Gordon's College for six weeks, but instead became a fixture there during a 46-year career in which he taught pupils who would reach the heights of British sport and politics.
The maths teacher handed in his calculator last week after his record-breaking stint at the school.
Former pupils include politician Michael Gove, former deputy first minister Nicol Stephen, Olympic swimmer David Carry and rugby internationals Chris Cusiter and Ruaridh Jackson.
The previous holder of the long-service accolade had been Ellenor Herbert, who taught English from 1916 until her retirement in 1961.
"I was holding on to beat Ellenor," said Mr Jamieson.
"I don't know if anyone will ever better 46 years, but you never know.
"I had only gone to Gordons for six weeks of teacher training but loved the place so much I decided to apply for a job."
Mr Jamieson is not exactly sure of how many pupils he has taught in all 46 years, but he reckons on around 230 parents evenings, 14 foreign school trips and "too many to count" local class trips.
"I can't walk down Union Street without bumping into a pupil or former pupil," he said.
"One of the nicest things about the job has been seeing former pupils coming back as parents.
"I presented a sports trophy last week to a boy whose father's name was also engraved from his time at the school."
Looking back on his almost five-decade career, he said one of the highlights was the introduction of girls into the school in 1989.
He said: "Not all of the teachers wanted co-education.
"But I was delighted as I had two daughters who would become Gordon's pupils."
Other changes included the phasing out of corporal punishment, which Mr Jamieson "never had the need for".
He added: "A raised eyebrow was often all you needed."
Head of the college, Simon Mills, last night paid tribute to the retiring teacher.
Mr Mills said: "Arthur retires from the maths department with a record-breaking 46 years of continuous teaching service, having only initially arrived for six weeks.
"He has been a very experienced head of house and head of guidance alongside his mathematics teaching, and we wish him every happiness and health in retirement."
The 68-year-old has no "real plans" at the moment other than travelling the West Coast and doing some gardening.
On his long-service award, for which he received a rare Golden Gordonian Pelican badge, Mr Jamieson said: "It has been an honour to serve them all my days."