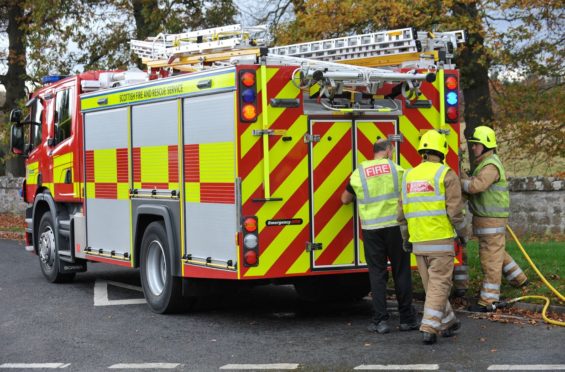 Nearly 850 properties in Aberdeen were left without power this morning after a fire at an electrical substation.
A fire in Caiesdykes Crescent in Kincorth caused the outage, reported to SSE and the fire serivce shortly before 11am.
The blaze was out by the time crews from Altens fire station arrived at the scene.
Properties in the surrounding area including Caiesdykes Road, Buchanan Road, Gardner Drive, Cairngorm Drive and Matthews Road were without electricity for around two hours.
Engineers managed to reconnect all 845 properties affected by 12.50pm, a spokesman said.
The power supply was re-routed to bypass the substation to allow repair work to take place.
A spokesman for SSE said: "The outage was caused by a faulty piece of equipment catching fire.
"Engineers have been sent to the substation and are dealing with it.
"There was no significant damage and no one was hurt."
Postcodes affected
 AB12 5ER
AB12 5ES
AB12 5ET
 AB12 5EX
AB12 5HA
 AB12 5HB
 AB12 5HD
 AB12 5HJ
 AB12 5HL
 AB12 5HN
 AB12 5HP
 AB12 5HQ
 AB12 5HX
 AB12 5JA
 AB12 5JD
 AB12 5JJ
 AB12 5JL
 AB12 5JN
 AB12 5JQ
 AB12 5JT
 AB12 5NJ
 AB12 5PQ
 AB12 5PS
 AB12 5PT
 AB12 5SJ
 AB12 5SL
 AB12 5SN