A historic locomotive steamed into Aberdeen today, much to the delight of train spotters.
No 60163 Tornado, fondly known as The Aberdonian, was waved into the city by about 200 people as it arrived on its first of four upcoming visits.
The steam train was first welcomed in the city on March 14 following the restoration of a turntable.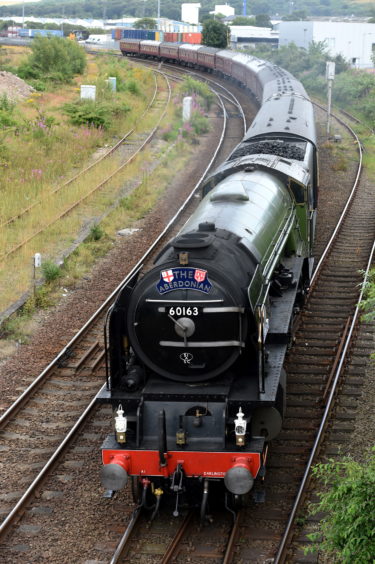 Volunteers from the Ferryhill Railway Heritage Trust (FRHT) worked tirelessly to upgrade the equipment, which dates back to 1906.
Andrew Meff, chairman of Ferryhill Railway Heritage Trust, said: "We had a really good turnout for it being a midweek visit.
"About 200 people or so were here waiting to watch the steam engine be turned around.
"They were very enthusiastic, and it's clear there's an interest for this."
The locomotive usually requires to be refilled with 27,000 litres of water before being turned around at the Ferryhill depot.
The volunteers were on hand to fill her up, after managing to secure a vintage fire pump for the job.
Mr Meff said: "This is the first time we were able to provide water for the steam engine.
"Usually it will top off at Craiginches, but one of our volunteers got a vintage fire pump.
"The tank allows us to fill it up in 20 minutes, which is great for us.
"Next year we have about 12 more visits planned and a few of those will be the Tornado returning to Aberdeen."
The Tornado travels from Edinburgh to Aberdeen and it is operated by the AI Steam Locomotive Trust. It will return on August 8, 31 and September 7.