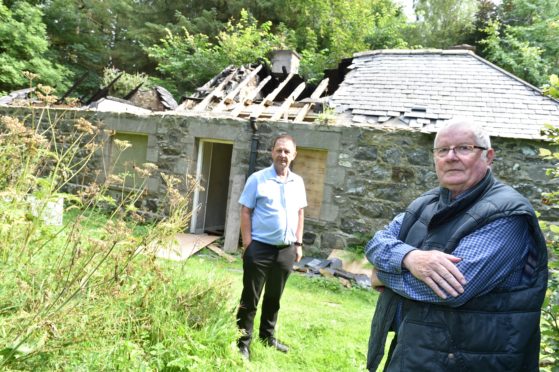 Aberdeenshire Council is poised to increase security measures at a historic country park following a spree of vandalism, anti-social behaviour, intentional fires and theft in the area.
Plans have been proposed to install CCTV equipment at Aden Country Park near Mintlaw in response to the rising level of crime in recent months.
On Saturday, the window of the Bon Bon sweetie shop in the village was smashed in, before hundreds of pounds was stolen and the property trashed.
And between April and May, the village's library on Newlands Road was repeatedly targeted by vandals who damaged the windows, resulting in costly repairs.
Concerning incidents have also been reported at the attraction itself, including "boy racers" speeding around the car park, toilets being broken and bins being damaged.
And earlier this summer, firebugs even attempted to set the park's well-known Forester's Cottage ablaze.
Jack Grant, landscape officer for the Buchan area, said he hopes extra security will help to prevent more problems.
He said: "Boy racers have been tearing the car parks up and causing a terrific amount of damage, sometimes until 4am.
"There's been grass verges torn up by people driving across them at high speeds, people damaging toilets, just a lot of general vandalism.
"It's been going on for years, but it's been getting steadily worse recently."
Central Buchan councillor, Norman Smith, added: "We've had a lot of issues in recent months at the park, and the library in Mintlaw, and then last week there was the vandalism at the sweetie shop which was broken into.
"It's a particularly serious issue at the moment, so hopefully CCTV will help with that.
"At this moment in time, the suspicion is that a lot of the people doing this are academy-aged kids getting up to no good in the longer daylight hours of summertime.
"Fingers crossed that these culprits could potentially get identified through CCTV and taken to task, but at the very least it should prove to be a deterrent."