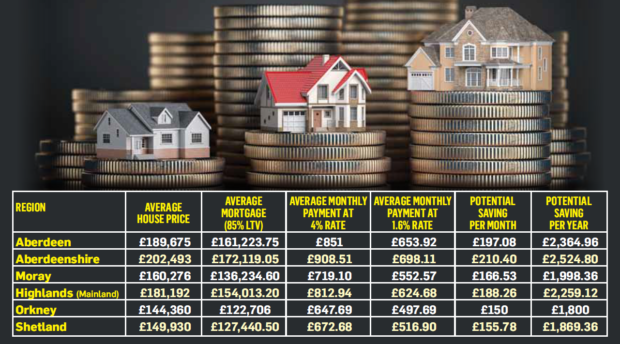 A new survey of Scottish households has found that four-in-10 could be over £2,000 a year better off by switching their home loan.
Record numbers of Scots are taking advantage of low interest rates by remortgaging to fixed-rate deals.
But a poll carried out on behalf of independent mortgage adviser Aberdein Considine has revealed that 43% of people are staying with higher rates of 4% and above.
Based on the average Scottish mortgage of £162,613, those who are paying a rate of 4% or more could be losing out on at least £191.71 every month.
Over a year, homeowners could be £2,300.51 better off by switching to the current average fixed rate, which sits at 1.62%.
At present, Aberdeenshire's average mortgage is higher than the national figure, sitting at £172,119.
Aberdeen is sitting close behind at £161,223, followed by the Highlands at £154,013, Moray at £136,234, Orkney at £122,706 and Shetland at £127,440.
Across Aberdeen, Aberdein Considine suggests people could save £2,365 by switching from a 4% deal to a new fixed rate.
A similar move for a typical Highland homeowner would save them £2,259, while those in Moray, Orkney and Shetland could save £1,998, £1,800 and £1,869 respectively.
Kevin Gardiner, mortgage director at Aberdein Considine, urged people to apply a "compare the market mindset" to their home loan.
He said: "Most people will shop around online to save £100 here or there on things like car insurance or energy suppliers.
"Yet when it comes to mortgages – for many the most expensive monthly outgoing – people seem less likely to shop around.
"The reality is that most people can save money.
"And in many cases the annual saving would be substantial, because the mortgage market is awash with brilliant fixed-rate deals at the moment.
"With a no deal Brexit on the horizon, nobody knows how much longer these deals will be around for, so now is a good time to think about locking-in to a new and lower fixed rate to give you both a saving and some peace of mind.
"I would urge anyone with a mortgage to check what interest rate you're on and whether you're paying more than you need to be.
"Speaking to an independent mortgage adviser is a great place to start to find out your options."
Of the 1,003 people surveyed, 27% said they were on a mortgage rate of 2% or less, which is in line with the top deals on the market.
A further 30% are on slightly more costly 3% rates, while 38%, the majority of those polled, are on 4%. A further 5% were on rates of 5% or higher.
Throughout August, Aberdein Considine is running free consultations for homeowners to give them a second opinion on their mortgage.