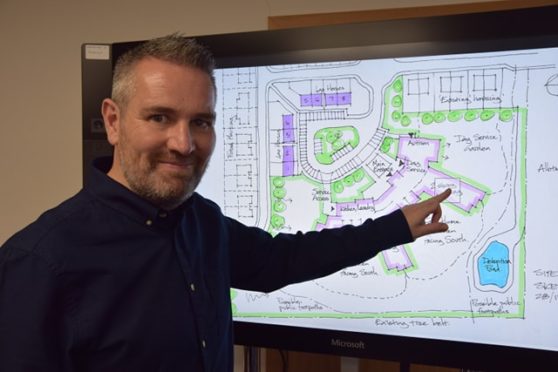 Residents of Peterhead turned out to view plans for an £8million care village.
Aberdeenshire Health and Social Care Partnership held the drop-in session to give members of the public the chance to view the proposals and answer questions.
The facility is earmarked for land at Kinmundy and Dales Park, and would contain 60 en-suite care home rooms split into five wings.
There would also be eight supported living apartments for people with disabilities and a facility which could replace Willowbank, the current day centre for those with additional needs.
Partnership north manager Mark Simpson said: "Within the care village there's the 60-bed care home which is dementia friendly, as we're working on the assumption that it will be a replacement for Grange Park Care Home.
"There's a big communal area that we are hoping can become a key space for involving the wider community.
"There's also a hub for learning disabilities day services as we're working on the assumption this will replace Willowbank as their building is in bad condition.
"Eight bungalows will also be on site although we're not sure of the layout they may be in yet but those will be supported accommodation for people living with disabilities.
"It's exciting to think we're about three years away from this being built."
The authority is keen to build on the success of similar care facilities Bennachie View, in Inverurie, and Edenholme, in Stonehaven.
But some attendees had questions about the future of Ugie Hospital, which is currently being considered by the Integration Joint Board.
The aging unit provides rehabilitation care for elderly people just out of Aberdeen Royal Infirmary.
Mr Simpson insisted no decision has yet been made, and said: "The hospital has served the community for 150 years but the facility's condition isn't fit for purpose in terms of modern day health care.
"The partnership is moving to have people rehabilitated at home where possible and will utilise the space at Peterhead Community Hospital as it runs at 50% capacity right now, ultimately allowing us to move off of the Ugie site if the decision goes that way."
Meanwhile Lindsay Elphinstone, day services manager for Buchan Development Opportunities which uses Willowbank, highlighted the autism friendly spaces included in the proposals.
He said: "This is about getting people's opinions on moving the service into a new building accommodated within the care village.
"It's a positive step for the people who use our services. My personal view is that it would be great to have a new facility for our service users and hopefully we can get many views today to make it what people want."