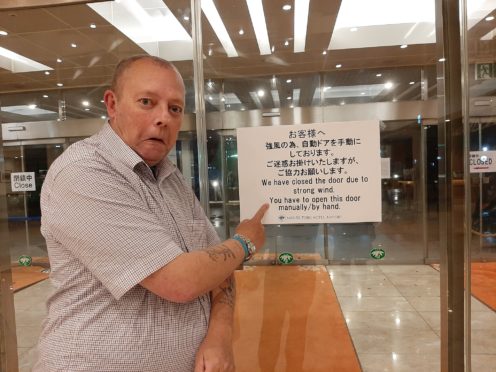 A north-east man has spoken of witnessing the destruction caused by Typhoon Hagibis as his trip to Japan was thrown into disarray.
Mark Lawley, from Portsoy, travelled to the country with four friends to visit different airports, military bases and aircraft museums.
His plans were cast into turmoil on Saturday when Typhoon Hagibis, the worst storm to hit the country in decades, struck.
Mr Lawley had been planning to fly back to Scotland at the weekend but all flights from Narita Airport were cancelled that day as wind speeds reached 134mph and forecasters warned that 31.5 inches of rain would swamp the area.
Yesterday, he described seeing debris being blasted across the streets as the storm swept through the city, and trees being shaken as they were battered by strong winds.
The 54-year-old retired foster carer said: "The weather was of no concern when we departed from London last week, it seemed it was only mentioned on TV around last Wednesday.
"When it hit, there was debris being thrown around, and trees wobbling.
"At the time when this was happening, I was thinking that I was so lucky staying in a place where the storm wouldn't cause any severe damage – and wondering how families on the poorest scale would be able to deal with this occurrence and rebuild their lives."
Mr Lawley, who was visiting Japan for the third time, was able to stay safe by following instructions issued by concerned hotel staff.
He added: "We were due to have a hire car on Friday and Saturday, with the plan to take it back on Sunday.
"Due to the approaching storm, we returned the car early on Saturday. We had planned to visit other places that day but were advised not to drive about."
Mr Lawley and his friends yesterday moved to a hotel at Incheon Airport in South Korea after flying instead from Tokyo. He plans to return home early next week.
The storm has claimed at least 60 lives, with 20 confirmed missing and scores more injured
More than 110,000 people are taking part in search and rescue operations in the aftermath of the typhoon.
Police officers, firefighters, soldiers and coastguard personnel were mobilised along with 100 helicopters yesterday.
Tens of thousands of people still have no electricity or water supplies, with power lines still cut to more than 50,000 homes.