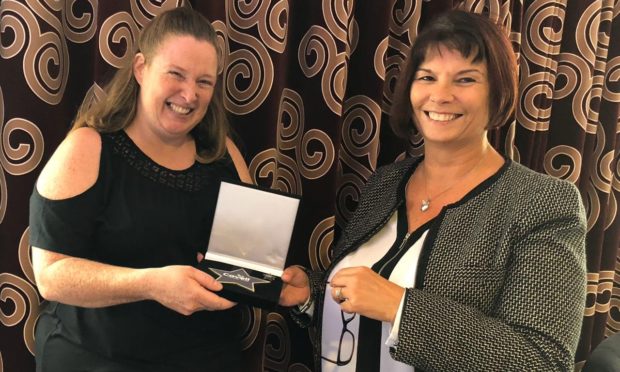 An Aberdeen nurse who works tirelessly to support neurological patients has been awarded for her devotion.
Donna Lovie works at Sue Ryder Dee View Court, ensuring residents have 24/7 support and attention and has now been presented with a Cavell Star Award.
The accolade is named after British nurse Edith Cavell, who was celebrated for saving the lives of soldiers from both sides and helping more than 200 Triple Entente soldiers escape from German-occupied Belgium during the First World War.
Since then, her name has become synonymous with selfless dedication and putting others' interests first.
Ms Lovie was pleased, but surprised, to gain any recognition for her labours.
She said: "I am absolutely delighted to have received this award. But it has come as a real shock and I've never thought of the work I do as exceptional.
"As far as I'm concerned, I have the best, most rewarding job you could ask for and it's the clients and my colleagues at Dee View Court who make me so passionate and want to get out of bed in the morning."
Valerie Maxwell, the centre director, said: "Donna really understands that, for our residents, Dee View Court is their home. Nothing is too much trouble for her.
"She always does things properly and exactly as a client likes – a real embodiment of Sue Ryder's ethos of seeing the person and not the condition.
"For example, one of our residents loves going to the cinema and Donna makes that happen. She truly is an inspiration to us all and she should be very proud of herself."
Ms Lovie began working at the centre in 2014 as a care assistant with no prior experience.
Through hard work and commitment to the job, she swiftly climbed the ranks to become assistant practitioner earlier this year, making her responsible for ensuring that clinical staff members fulfil the expected standards of the care sector.
She is also instrumental in coordinating a wide range of therapies, activities and programmes for the centre's residents, many of whom are living with a range of neurological conditions such as multiple sclerosis, motor neurone disease, acquired brain injury and Parkinson's disease, which can develop at any stage in life.