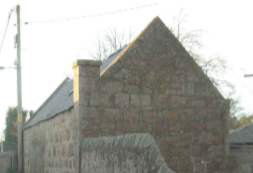 A former church building which has fallen into a "dangerous" condition over the last century could be partially demolished and transformed into a house.
The outbuilding of St Margaret's Church lies on Ballater Road in Aboyne, and is a category C listed building.
It was recently purchased by a local couple, and they want to transform the building into a workshop and storage space.
The building, which is more than 100 years old, was visited by engineers who found the structure to be in a "dangerous state" and in "poor condition".
A damaged roof had bowed and cracked, leading to the structure's granite walls being pushed outwards.
They also found several cracks within the walls, and rotten joists.
The engineers suggested that demolition would be the best option for the former church building.
A planning statement said: "The building is beyond what could be considered as requiring normal repair, and we would therefore recommend that it is demolished to prevent any future sudden structural failures."
Therefore, plans have been lodged by Gerry Robb Architectural Design Services to partially demolish and rebuild the outbuilding.
The owners want to retain as much of its historical structure as possible and state in planning documents that they will "retain the original character" of the building in future work.
The outbuilding dates back to the 1870s.