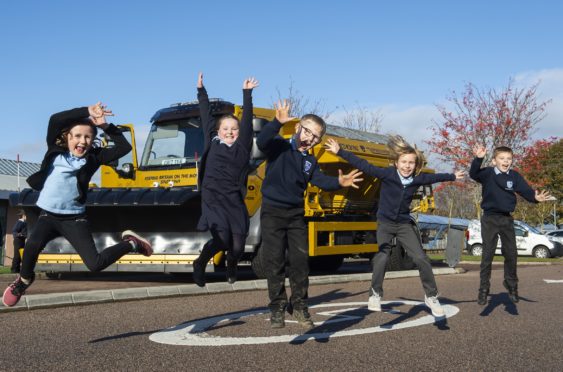 Aberdeenshire Council has unveiled an action plan to keep roads clear this winter – following warnings that the authority doesn't have enough money to cope with even a mild season.
The council has enlisted 120 farmers to help its staff of 200 road workers look after rural routes during extreme conditions, and stockpiled 25,000 tonnes of salt to thaw icy roads and pavements.
Earlier this year, a report by infrastructure chiefs indicated that its £4.52 million budget for "winter and other emergencies" across 2019-2020 falls far short of the funds needed for even a mild winter.
Yesterday, council chiefs gathered with children at Strathburn Primary School in Inverurie to launch this year's winter campaign.
The council's head of roads, Philip McKay, outlined the procedures for treating priority routes during freezing conditions.
He said: "The primary road network receives preventative treatment with gritters and ploughs starting a morning treatment at 5.30am and finishing an evening treatment no later than 9pm each day when necessary."
Chairman of the authority's infrastructure services committee, Peter Argyle, said: "Every year our teams work tirelessly throughout the winter to ensure our roads, footpaths and cycleways remain safe.
"Our residents, commuters and businesses can be assured that Aberdeenshire Council is highly prepared and, as always, we will continue to look to improve the high level of service we provide with the resources available to us.
"However, we are also realistic and, when there are extreme conditions, while we will do the best we can, road users must be aware of those conditions and drive accordingly or heed the advice of our roads partners and leave vehicles at home."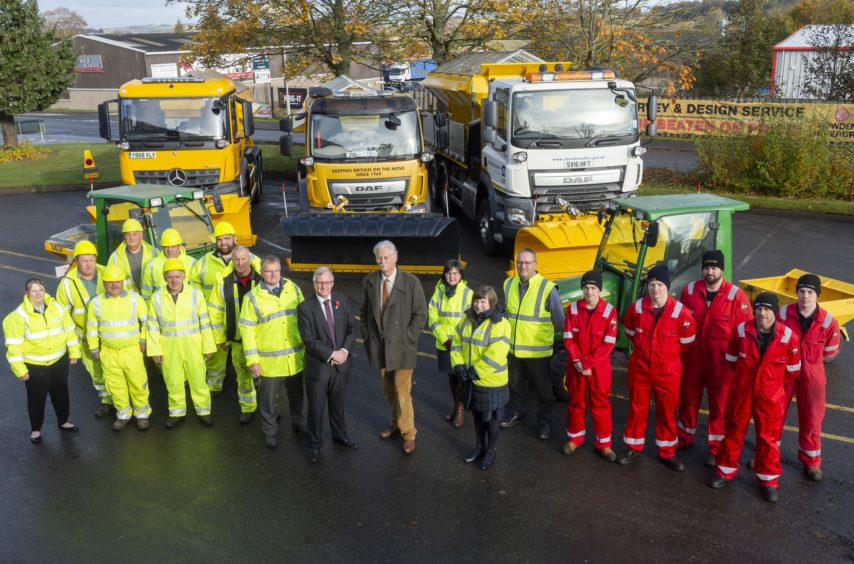 A special gold gritter, which is touring the UK to celebrate the 50th birthday of manufacturers Econ, formed part of the event.
And the council also launched a competition for pupils at the county's 152 schools to name the region's 32 main gritters.
Each school will submit their suggestions with judges revealing the winning names on Friday, November 15.
In recent years the council has used around 45,000 tonnes of salt to ensure the region's 3,424-mile road network remains safe for drivers.
The primary road network is made up of 32 different routes covering 1,081 miles – and comprises around 30% of the region's entire network.
Weather forecasts and road surface temperatures will be monitored by the council roads team so that workers can react quickly to the changing conditions.