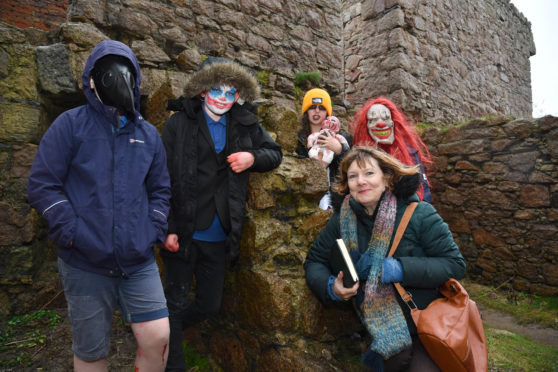 Spooky sounds, scary costumes, castle ruins and a top Scottish author are some of the special ingredients being used to inspire an interest in English.
Braving yesterday's miserable weather, Slains Primary pupils spent a few hours at Slains Castle for an unusual creative writing class.
The school, near Collieston, was one of ten schools in Scotland picked to have an Author in Residence by the Scottish Book Trust.
And 2007 Children's Scottish Book award-winning author Alex Nye has since joined the school for a number of writing workshops.
The latest lesson took place within the walls of the ruin – one of the inspirations for Bram Stoker's Dracula – with an added soundtrack and Halloween costumes to inspire the children to take an interest in writing.
Ms Nye, who held the session under a gazebo due to the rain, said: "This session we're thinking about setting and using the sounds and the imagery without them really knowing about it.
"Children also often struggle to end stories so we've been using the castle as inspiration for things such as time passing, exploring how it ended up as it has.
"In other sessions we've taken inspiration from caves, creating own own in the classroom which the children had to crawl into, and from mirrors, where we had lots and many lights set up too."
Ms Nye will be with the school until spring trying to encourage an interest in English in all of the pupils.
One of those taking advantage of her knowledge is 11-year-old Brodie Macalister.
He said: "I think this is going to improve our writing and get us to focus more on scary story ideas.
"It has definitely been better than being in school, but we've still been learning."