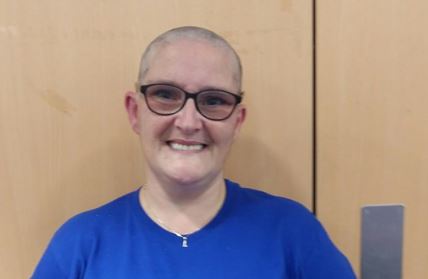 A courageous Aberdeen woman has shaved off her hair to raise money for cancer charities.
Lynnette Bartlett braved the shave at Manor Park School – with her sister, who has battled leukaemia for the past 15 years – in charge of the razor.
The 45-year-old, who works as a cleaner at the school, said: "My sister's hair has just grown back in the way she likes it and she was wanted to do the shave to raise the money. I said no, I'll do it.
"She shaved my hair off for me. She didn't know if she was going to cry or not, but she never – she managed just fine."
More than £700 has been raised so far, with donations still coming in.
Although this is her first time fundraising, Miss Bartlett's sister and nephew have done quite a few in the past, including sponsored walks and sponsored silences.
All of the online funds will go straight to Cancer Research UK and the cash donations will then be split between other charities, including Friends of Anchor.
Miss Bartlett said: "I'll be donating some money to a children's cancer charity and the rest to Friends of Anchor because they've helped my sister so much in the past and they still continue to help her now."