VIDEO: 'Lasting legacy' of Neale Cooper unveiled in Aberdeen's second Cruyff Court
By
Jon Hebditch
November 23, 2019, 8:18 am
Updated: November 23, 2019, 1:59 pm
Friends, family and former team-mates of Aberdeen legend Neale Cooper have joined forces to create a "lasting legacy" to the Gotherburg Great.
The new facility, Aberdeen's second Cruyff court, which has been named in his honour, was officially opened at Tullos primary, with a plethora of footballing greats, including the city's most famous footballing son, Denis Law.
Mr Cooper died last May, aged just 54, leading to an outpouring of grief among Dons supporters across the world.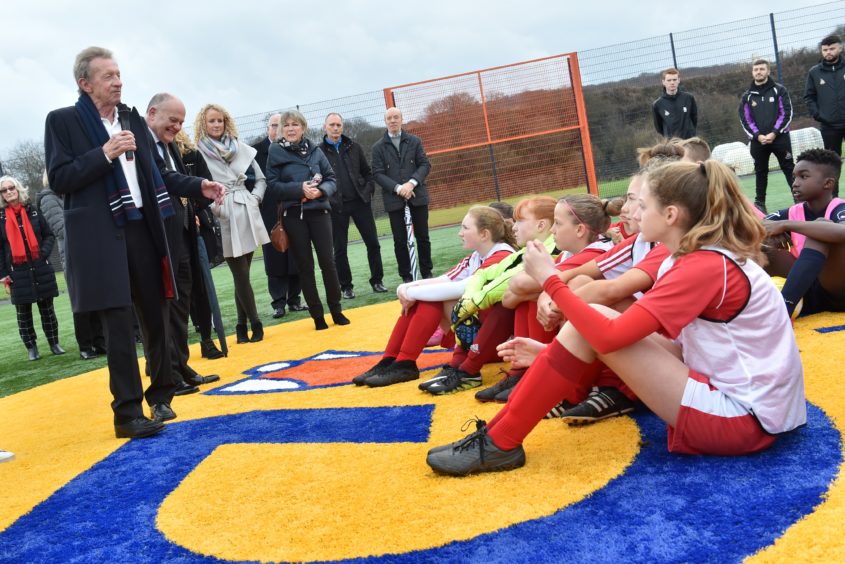 And now, the £300,000 community sports facility, funded by £250,000 from the city council and £50,000 from the Johan Cruyff foundation and supported by the Denis Law legacy trust, is ready to nurture the next generation of football stars.
The first facility opened on Catherine Street and was named after of Aberdonian Ballon d'Or winner Mr Law, who returned to his roots for the occasion.
In addition to his presence, Mr Cooper's family were joined by other members of the famous 1983 Cup-Winner's Cup team, including Jim Leighton, Alex McLeish, Eric Black, John Hewitt and Neil Simpson.
Archie Knox, who was assistant to Sir Alex Ferguson at Aberdeen and helped Cooper make his breakthrough with the team, was also present.
Mr Cooper's son Alex officially opened the venue by taking a penalty, and scoring, against Mr Leighton.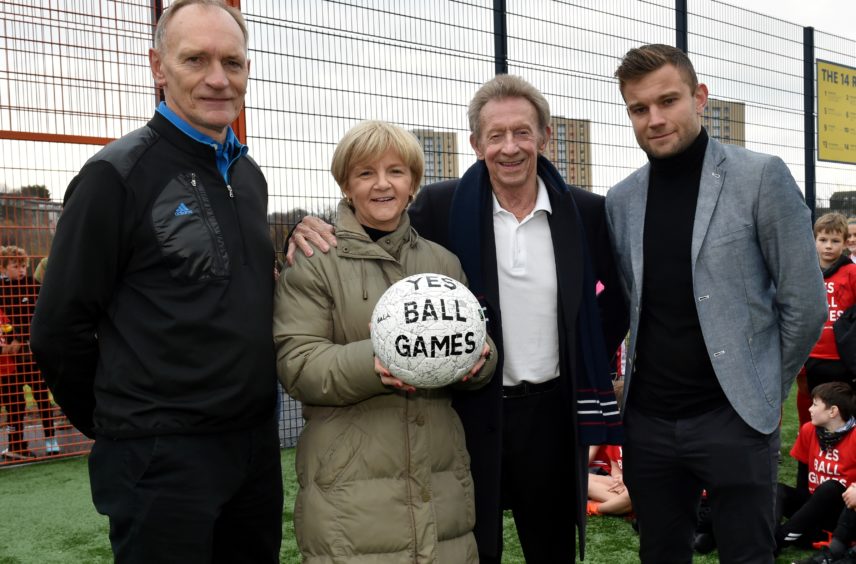 Mr Cooper junior said: "This is a special day and I know he would be absolutely delighted and proud to play a part with this court named after him.
"Football was a huge part of his life from a young age and provided so many wonderful opportunities – we know Cruyff Court Neale Cooper will provide the next generation with the same chance to play and thrive."
Mr Leighton said: "It's great that his lasting legacy will live on here.
"You wouldn't expect anything less than a great turn-out for Neale and that's what we have had."
Mr McLeish said: "This is pretty fitting as Neale himself was a great young player who came through the ranks.
"Sadly, football in Scotland, for the last 20 years, is being played by fewer youngsters and I think a facility like this is a great encouragement for them to try the game."
Denis Law, who was back in the north east after being granted the Freedom of the City last year, said it was "lovely" to return to Aberdeen.
He added: "When I was a kid, we played with a lamppost as one goalpost and a drain pipe as the other, so it is brilliant to see these facilities are available to them now.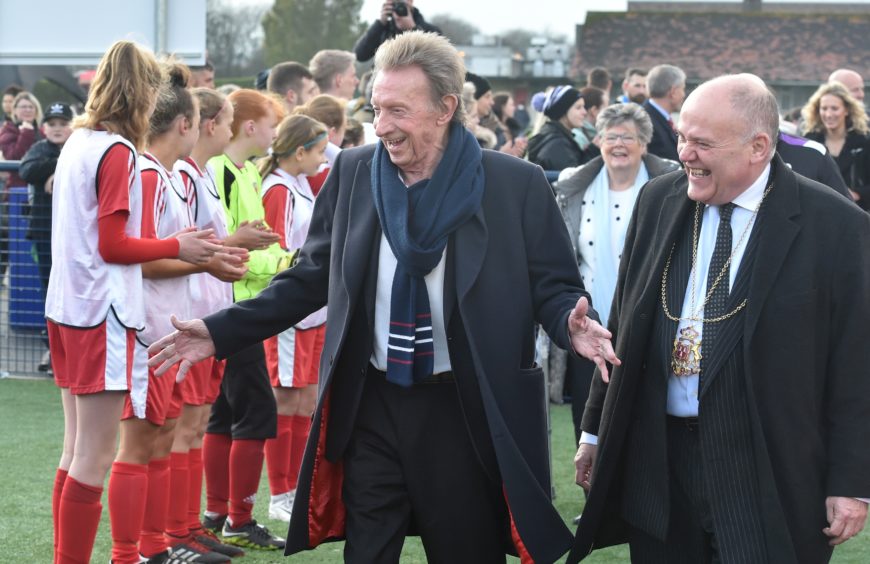 "The first Cruyff Court has been a real asset to Aberdeen and our Streetsport team – there is no doubt in my mind Cruyff Court Neale Cooper will be just as successful."
Council co-leader Jenny Laing said: "There is no point in investing in the city's infrastructure if we don't invest in the people, and that is what this project is about.
"Honouring Neale in this way is very fitting and it is a pleasure to welcome the family to perform the official opening.
"We want to give every young person in Aberdeen the chance to fulfil their potential and, together with our partners, we are innovating and we are investing to realise those ambitions."