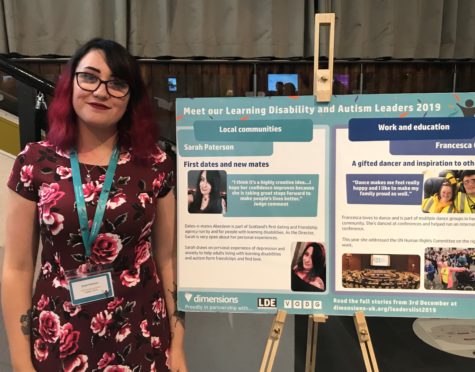 An Aberdeen woman has won a place on the UK Learning Disability and Autism Leaders List.
Sarah Paterson has been recognised for her work in the community through the charity project dates-n-mates – Scotland's first dating and friendship agency run for, and by, people with learning disabilities.
The 22-year-old has been director of the Aberdeen branch since it launched in 2015.
The list celebrates those who have learning disabilities or autism but help to make society better for everyone, and praises achievements in sports, arts, entertainment, work and education.
Miss Paterson had to overcome her own insecurities and self-doubt to lead Dates-n-Mates but uses her personal experience to help the project members form meaningful friendships and relationships.
"I enjoy being focused on the members' needs and finding out what kind of help and support they need. Putting a smile on their face is always fun," she said.
"I was surprised when I found out I was on the list but it feels amazing to be recognised for all my hard work."
Project development coordinator Louise McEwan added:"Sarah is a fantastic role model.
"Our members regularly tell us that they love everything Sarah does for dates-n-mates."