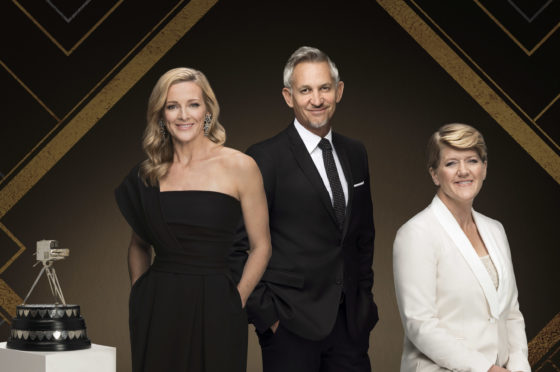 One of the biggest awards in the sporting world will be held in Aberdeen tonight.
Taking place at P&J Live, the BBC Sports Personality of the Year will bring a whole host of celebrity guests to the Granite City.
Tickets for the event were snapped up in just five minutes of going on sale which was the quickest sell-out for the prestigious show since it went on the road in 2006.
Presenters Gary Lineker, Clare Balding and Gabby Logan will take to the stage to celebrate the year of sport in front of an audience of 10,000 with millions more expected to watch live on BBC One.
The cream of the sporting world are expected to gather in Aberdeen to celebrate a year of outstanding achievements.
Nine prestigious titles are up for grabs including Sports Personality of the Year, Greatest Sporting Moment, World Sport Star of the Year, Coach of the Year, Young Sports Personality of the Year and the Lifetime Achievement award.
To help out those heading along to the event, we've pulled together a helpful guide on what you need to know about it.
That includes how to get to and from P&J Live. Venue bosses are urging fans to make full use of public transport, taxis and drop-off points to help ease congestion on roads around the site.
What time does the event kick off?
Doors open at 4pm. Please be advised that you must be seated by 6pm. The BBC live broadcast will start at 7pm.
Guests should dress smart.
P&J Live takes visitor safety seriously and has a zero tolerance policy on drugs, smoking inside, flares and smoke devices.
Allow time to pass through security checks as everyone will be searched upon entry, including all bags.
No large handbags and no backpacks are permitted. Please see full listing of venue rules here.
Venue bosses are urging people to use public transport.
Stagecoach PJ1: Get the Stagecoach PJ1 from Stance 14 at Union Square Bus Station direct to P&J Live from 3.30pm every 15 minutes.
The PJ1 will also depart P&J Live from the events bus stop next to Aloft Hotel, buses will operate directly to Union Square Bus Station, via Great Northern Road and Broad Street, stopping when required.
This service will be available once the event finishes. Single fair is £2.60 with Aberdeen Zone 1 Dayrider Ticket £3.80. Find out more here.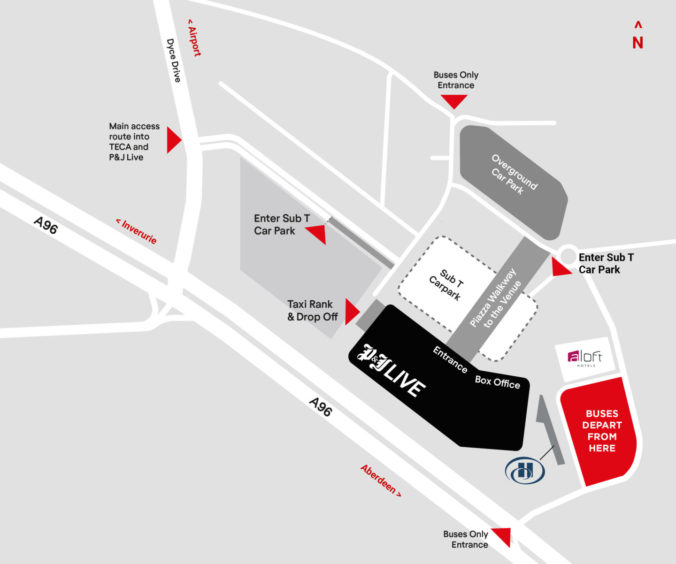 Those travelling to attend from Stonehaven and Ellon will have the option to leave the car at home and can book return bus transport.
The service will be available only to those who have pre-booked and will depart from either Stonehaven Barclay Street (outside Farmfoods) or Ellon Park and Ride. The buses will go straight to P&J Live.
Buses will depart each town at 4pm. The return trip from P&J Live will depart 30 minutes after the show has ended. The bus journey is free and must be pre-booked. Bookings can be made online here.
Car: If you do choose to drive, the two entry points are Dyce Drive and the A96 southbound only (heading to the city centre), as other points are bus gates only. On exit you may exit via any three points at Dyce Drive, A96 and Wellheads Drive. You can park either in the Sub-T (underground) or the overground car park.
Drop Off and Pick Up: If you are dropping off or picking someone from an event, please note maximum wait time is 30 minutes. Parking charges will apply if your car is within the complex outwith 30 minutes.
Taxi: There is a taxi pick-up and drop-off point located on the P&J Live site, as well as a dedicated taxi rank in operation during major events.
For more travel information click here.
Will alcohol and food be available?
There will be lots of catering options available for customers to enjoy within the venue throughout the evening. Drinks cannot be brought along to the event. All bars, kiosks and restaurants accept card payments, this is more efficient, safe and ensures a speedy transaction. There are therefore no cash machines on the TECA site.
Are there any age limits?
Children under 16 must be accompanied by an adult, minimum age of 10 years.
Please note, the event is sold out.
For more information, click here.