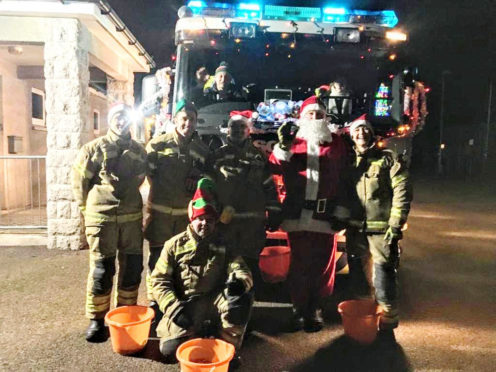 Santa Claus returned this week for a tour of Portsoy with the town's fire crew – and raised more than £1,000.
Decades have passed since Father Christmas visited the firefighters but, due to popular demand, they asked him to join them again this year.
Stopping off at the gym, children from neighbouring villages also had the chance to see Santa and get involved.
And, thanks to the success of the event, it has been confirmed it will return in 2020.
Station watch manager Graeme Gauld said: "As far as the guys remember, there used to be a dedicated Christmas fire engine that did the rounds back in the day.
"Once that stopped, over 20 years ago, the event basically stopped.
"So we decided this year that it should be rekindled as we all remember it as kids."
With the fire engine decorated in a plethora of flashing fairy lights, the group travelled around the town collecting money to make a difference to others at Christmas.
Members of the community and residents of surrounding villages donated £1.014.
Mr Gauld said: "We are planning on building on the amount throughout the year to provide a community Christmas lunch for those that would otherwise be alone and also have a grotto to provide kids with presents to open on the day.
"The planning stage is still in its infancy, but I believe the community of Portsoy will be able to make the dream come true.
"The fire engine Santa collection event will continue from now on."