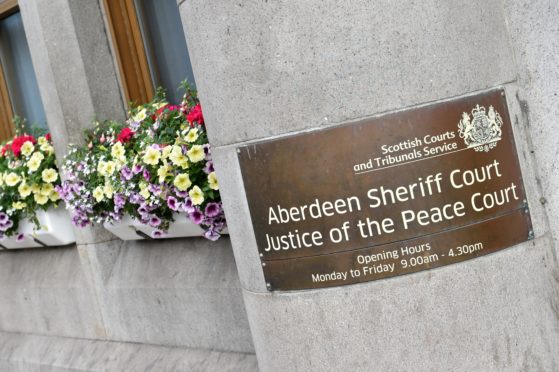 A man has been jailed after acting aggressively towards his ex-girlfriend and showing "no remorse".
Jordan Argo was sentenced to five months imprisonment after pleading guilty to the offence at an earlier date.
Fiscal depute Alan Townsend told Aberdeen Sheriff Court that Argo had turned up to his ex-partner's flat at midnight on January 15 when she was there with her child.
He said: "He asked to stay the night and appeared to be intoxicated and angry."The 20-year-old shouted and swore and uttered "threats of violence", "refused to leave" despite requests and repeatedly punched and "headbutted" the walls.
Mr Townsend added: "She was fearful for her and her child.
"A neighbour contacted the police at 12.45 am. They arrived, heard shouting and a distressed woman and child.
"The accused answered and was disruptive towards police – shouting and swearing.
"Both the complainer and her child could be heard crying."
Solicitor Peter Keene told the court that his client had been drinking and was under the influence of drugs at the time.
"He does remember having a heated conversation," he added.
Sheriff Graham Buchanan said that Argo had not acknowledged his behaviour.
He added: "He seems to have tried to gloss over the whole thing and doesn't face up to the responsibility. He seeks to minimise the events.
"I understand this to be a serious case. His behaviour was deplorable and led to the complainer and her child becoming extremely distressed."