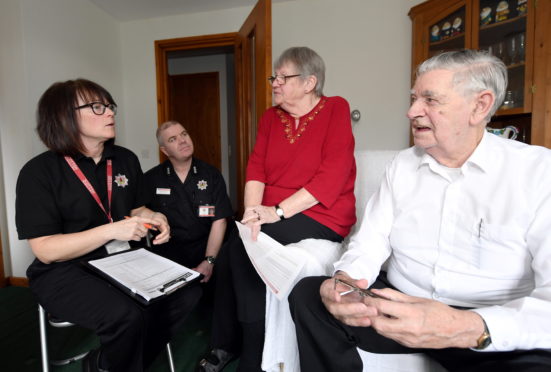 Fire service bosses are pushing for people to be offered free home visits after it was found more than two-thirds of fire-related deaths in Scotland were people over 50.
Figures highlighted that 218 people were killed as a result of fires between 2015 and 2019, with 149 of the victims being older than 50.
A third of all casualties in that period – 1,600 of 5,862 – were people aged 60-plus with two people of that age dying in fires in Grampian since 2017.
During the ongoing Older People month of action, firefighters have called for the public in these age groups to receive free home safety visits, so they can be educated on how best to prevent blazers from occurring in their homes.
Yesterday, Inverurie's Hanover Court sheltered housing residents George and Joan Rae had their visit from the local community team.
The couple were asked questions about multi-sockets, deep-fat fryers, their health and smoker status and given advice on how they could protect themselves.
Mr Rae said: "I used to smoke until I had a heart attack in 2014 and never gave it a thought since. We've never needed the fire service for anything at all.
"We're very safety conscious. I used to be extra careful as I had a stamp collection and was especially conscious of it because I used to work in filling stations and with rolling shutter doors."
His wife said: "I think everyone should have home visits like these as it really helps us stay safe – it's also marvellous getting to know new people."
Community safety advocate Jennifer Forsyth removed a block multi-socket from the couple's home which was considered a hazard.
After checking the rest of the home, she said: "As they are relatively new to the building, we came to offer advice – we can't tell anyone what they have to do, but we can give advice on how they can live safer.
"Even nowadays, some people don't have smoke detectors in their homes, so these visits are really important."
Station commander Craig Shand said: "We've had two fatalities in Aberdeenshire and Moray since 2017 and both were over 60 years old.
"That is two deaths too many and we want to protect people from preventable fires wherever we can, so we are urging people to contact us or for relatives to contact us if they know of anyone who could benefit from a visit."