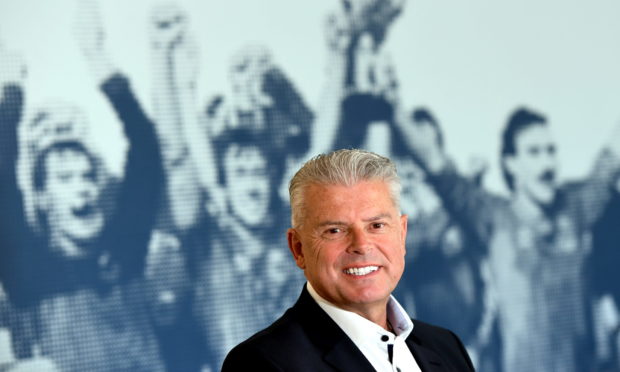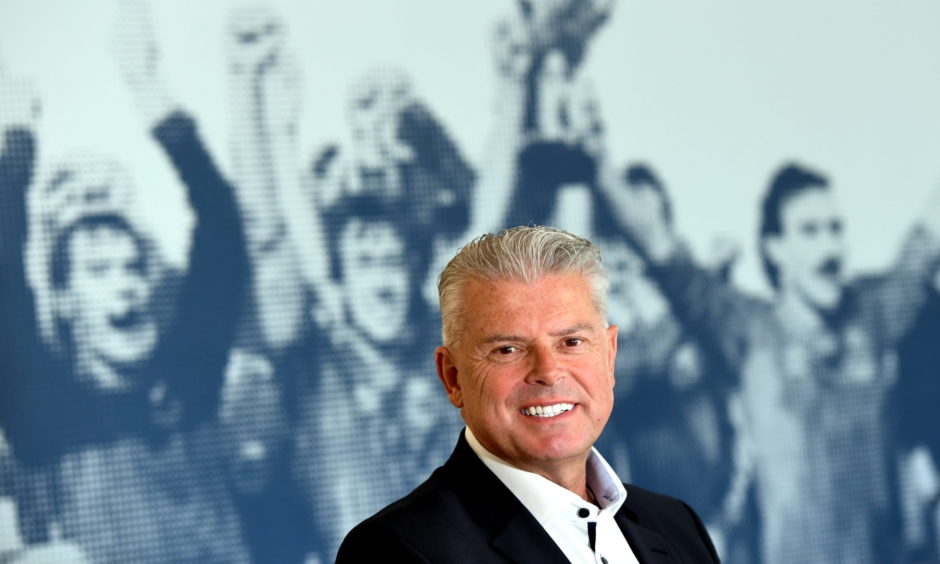 It sometimes feels these days as if football has been taken over by a string of multi-millionaires, with little or no interest in the sport beyond using it as a vanity project.
Yet that's certainly not the case with Dave Cormack, the man who has stepped into the role of chairman of Aberdeen FC after being born in a "slum" and growing up in an environment where he weeded rose gardens and gutted fish to earn a few shillings.
The 61-year-old software entrepreneur now enjoys the trappings of luxury and commutes regularly between Scotland and the United States, but he has never forgotten those early days in Garthdee when there was no running water in his family's flat and any trips to the toilet required an excursion outdoors.
Even now, he and his wife, Fiona, are dedicated to helping others through their ongoing work with the Cormack Foundation, which provides such things as annual stipends of £5,000 for prospective medical students who wouldn't otherwise be able to afford a university education.
He described this as a "hand up, not a hand-out", but when he talked about his working-class background, the lifelong Dons aficionado made it clear he has a rare pride and passion in his roots.
On visits to the Granite City, he often stays at the council house of his 90-year-old mother-in-law, Barbara Styles, a redoubtable character whom he has labelled "Supergran", a woman complete with a coal fire and a capacity for cooking "heavenly" home-made porridge and chips.
Mr Cormack has plenty of ideas for steering the Dons forward in the future, or at least once the worst impact of the Covid-19 pandemic has been negotiated, but, for a while, let's take a journey back to those formative years in the 1960s and 1970s.
He said: "My memories are of us growing up at Spring Garden, right next to the old ice rink in the city. We were a happy family, but it was a slum and although there was always food on the table, I soon learned you had to go out and work if you wanted to buy anything extra other than the essentials.
"Football was one of the great things. I recall my uncle Dougie buying me my first Aberdeen scarf from Harry Dowson, the tailor in George Street. It was silk and he took me to my first game when I was 10. It was against Dundee United at Pittodrie, and although it was a 0-0 draw, I soaked up the atmosphere and was gripped by it.
"My uncle asked the turnstile operator if he could lift me up, which basically meant he paid to get in and I was getting in free. I like to think that nowadays, given all the times he did that, the club is finally getting their money back.
"Aberdeen were a really good team at that time. Another uncle took me down to the Scottish Cup semi-final at St Johnston's old Muirton Park ground in 1970 against Kilmarnock.
"We beat them 1-0 and it was Derek 'Cup tie' McKay who scored the winner in the 17th minute. I didn't go to the final at Hampden Park – where Aberdeen defeated Celtic 3-1 – but I was already steeped in the club and their players and I am delighted that I am now good friends with my all-time hero Joe Harper. What a player!"
Mr Cormack's eyes sparkled at this juncture. Regardless of his vast wealth, there are still traces of the little coiled spring of endless activity who flung himself into a number of menial jobs, which occasionally left him ostracised by everybody else on the Aberdeen bus network and even his own mother.
As he explained: "From an early age, I always wanted to earn my own money. When I was 12 or 13, there was this company, Anderson's Roses on the Lower Deeside Road, and they would take kids on to do weeding during the summer holidays.
"A few of us cycled out there and we did eight hours of back-wrenching work and it was for a shilling. I went back and forth, and cycled there every day, but after a while, my dad refused to let me go back. I was exhausted, and he took pity on me. He didn't do that very often, but I was shattered.
"It was just the way things were. A few years later, I worked for the summer at the Alex Ross fish shop down in Torry. It was £3 a week and I was gutting fish and it was tough work. There was one time where I wasn't keeping up with the other staff on a Friday afternoon and they were all waiting to collect their pay and go out in the evening.
"Anyway, one guy, a long-haired lad, just came up and booted me up the backside. With his wellies on. Well, two of the female workers immediately jumped on him and they were all over him, punching him and shouting: 'Leave the loon alone'.
"But then I had to go and catch the No 2 Auchinyell bus and, even at rush hour, I always  got a seat on my own. Nobody wanted to come close – I was absolutely stinking of fish.
"When I made it home, and walked up the stairs in the tenement, my mum, who was very houseproud, wouldn't let me through the door. I had to strip outside in the landing, and she put towels down, so I could walk on them before I had a bath.
"I did that job for nine weeks – £3 a week was a lot of money in these days."
These experiences at the school of hard knocks stiffened the youngster's resolve, but he has always possessed a relentless work ethic. His wife was equally prepared to knuckle down, whether working at the once-popular Toy Bazaar or behind the counter in Boots, as the prelude to studying for a degree in home economics at Robert Gordon University.
Their combined efforts are still reaping dividends, both for Aberdeen FC, with Mr Cormack committed to enhancing the whole match day at Pittodrie and granting under-12s free admission, not by jumping the turnstiles, but through the AberDNA youth scheme which he hopes will persuade more children to pursue an interest in the club.
He isn't naive about the challenge which the game faces, whenever normal service resumes after the lockdown and he appreciates the anxieties felt by so many people in the world of self-isolation, furloughs and businesses struggling.
Yet he shares the philosophy of Mrs Styles – "She's a remarkable woman with a glass half full attitude and  so am I", and he finished the conversation with a stirring declaration of intent.
"It can be difficult for many people to make the transition from boot room to the board room, but I'm fortunate because I am very comfortable with it. I know we are lucky we can have a good life in the United States with our kids, but Fiona and I are both determined to keep giving something back and the foundation is very important to us.
"Yes, we like nice things, but we are not pretentious people. We are still grounded. We love Aberdeen and it matters to us that we are trying to help people in our community.
"The university stipends are just one part of that. I think I get more out of it than the kids do. But we are also both big supporters of [non-profit child sponsorship organisation] Children International and we do some specific work in Colombia where we have fronted a number of centres which, between them, are working with around 20,000 kids and trying to get them away from gangs and drugs. It matters!"
Mr Cormack was recently in his home city – before the lockdown – and met a friend for coffee at the Marcliffe. The hotel's owner, Stewart Spence, approached him and asked: "Should I be offended? Where do you stay when you come back to Aberdeen?"
He replied: "Stewart, I stay with Fiona's mum. Where else?"
That tells you all you need to know about how Dave Cormack is as close to his roots as when he used to pop into the garden to use the outside toilet more than 50 years ago.
Rising to challenge of unprecedented times
Dave Cormack admitted he is facing one of the biggest challenges of his business life as chairman of Aberdeen FC following the suspension of football due to the Covid-19 pandemic.
The 61-year-old Granite City man said he could never have imagined when he took up the reins in December that the debt-free SPFL club would, three months later, be facing a £5 million black hole as a direct result of the global crisis.
With no games for the foreseeable future, which means no gate receipts or corporate hospitality, and with no idea when the current season will end or the new one will begin, clubs have been faced with an almost complete collapse in income but considerable monthly outgoings.
However, Mr Cormack added he was determined to keep a calm head, avoid knee-jerk reactions and instead work tirelessly and collaboratively with the board, staff, players, management and investors to resolve the financial situation.
He insisted his first thoughts were for the wider community and how the club, which is at the heart of it, could help those in need.
The resulting #StillStandingFree campaign has led to more than 500 elderly fans receiving check-in calls from staff at the club, players and former players, as well as deliveries of food and essentials to almost 700 vulnerable children and their families.
Following measures taken by Aberdeen FC in the last week, the club's cashflow situation has already improved. Mr Cormack is convinced that additional money from the investor group, with which he is involved, and an appeal to the fans to buy season tickets – which has produced a 30% increase on last year – will secure its future.
He and his fellow investors have also pledged to donate 10% of all season tickets sold in the coming weeks to the AFC Community Trust to ensure it can continue its vital work in supporting vulnerable people in the city and shire.