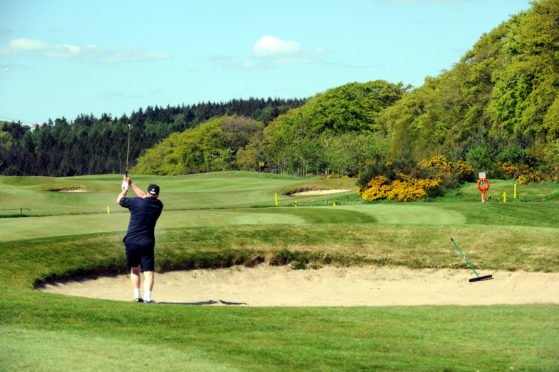 Golfers have quit an Aberdeen club over concerns its management fired staff instead of putting them on the 80% pay furlough scheme.
Craibstone, on the outskirts of Aberdeen, has like all other courses in the country been closed to the public due to the coronavirus restrictions.
But unlike many other golf clubs, it is understood the management has decided to sack a number of staff members instead of applying for the UK Government's protection scheme.
It can allow businesses to keep their employees on 80% of their wage while they are furloughed.
A number of club members have expressed anger at the decision and some have moved to cancel their memberships.
In an online statement, club partner Charles Marshall said: "In light of this pandemic, I have already had to take some quite severe and difficult steps to ensure the long-term feasibility of Craibstone.
"Most businesses look at the short, very short-term and have reacted accordingly.
"However, I have, with all my businesses, invested for long-term success, and so it is with this premise in mind I have taken the measures I have."
One club member said: "There's been a feeling of absolute outrage among the members that understand what's going on.
"Many of them are asking for their money back, asking to leave, or handing in notices.
"I was Craibstone's biggest cheerleader for years, telling everyone how wonderful it was and how much Charlie put into the place, but it's times like this that you really find out what people are all about.
"We were all blissfully unaware, carrying on making our payments every month, all the while thinking the staff were going to be looked-after, but it wasn't the case at all."
Another member added: "I certainly wasn't fussed about carrying on paying my membership, but then I found out that instead of the furlough scheme Charles had let his staff go, which was disappointing.
"More and more members have been trying to find out exactly what's going on, and so far nobody has come out and said it's not true."
Aberdeen Donside MSP Mark McDonald said: "The furlough scheme was created to ensure workers across all sectors, many of whom are low paid, were able to retain some form of income during the lockdown.
"It seems that the staff at Craibstone have been treated quite appallingly, judging from the online comments.
"If the business owner wishes to talk about investing for long-term business success, as he does in his statement, he might do well to consider that a great many people will be looking at how businesses are treating their employees during this crisis, and making their decisions on where to place their custom accordingly."
Mr Marshall and Craibstone Golf have not responded to multiple requests for comment, and have not confirmed how many staff  members, if any, have been dismissed.