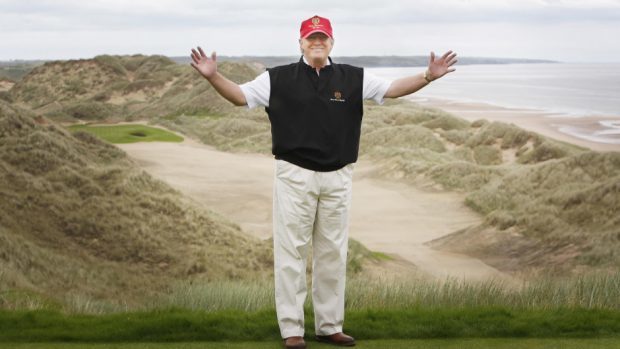 Donald Trump's Aberdeenshire golf course should not receive assistance from the Scottish taxpayer, a long-time critic of the US President's business in the north-east has argued.
Trump International Scotland's golf resort at the Menie Estate in Balmedie had been due to pay more than £120,000 in business rates this year, prior to the pandemic.
However, it is understood the organisation will not have to part with that cash, as the business qualifies for 100% rates relief.
Waiving business rates for qualifying companies is part of the Scottish Government's £2.3 billion pack of measures to help businesses survive the financial impact of Covid-19.
East Garioch councillor Martin Ford, a long-time critic of Mr Trump and his golf course at Balmedie, said he had little problem with staff at the Balmedie golf course being furloughed and benefitting from government support to help them keep getting paid, "like anyone else similarly affected".
But, he believes "tax-payer assistance for a business owned by someone who boasts he is a multi-billionaire is quite another matter".
Mr Ford said: "The economic crisis caused by Covid-19 will impact on the UK's public finances for decades to come.
"Right now, it is causing great financial difficulties for huge numbers of individuals, families and businesses.
"Many are concerned their money will run out. That is not going to happen to Mr Trump, who will remain very wealthy whatever happens."
Sarah Malone, executive vice-president of Trump International Scotland, branded Mr Ford "irrelevant" and said: "It is well known across the world that the tourism and hospitality industry has been dramatically affected by Covid-19.
"Almost all businesses within this sector have been unable to trade.
"Our priority throughout the mandatory closures has been the welfare of our staff and their families.
"The government schemes are designed to protect jobs and businesses affected by this worldwide crisis and to provide financial support to individuals unable to work."