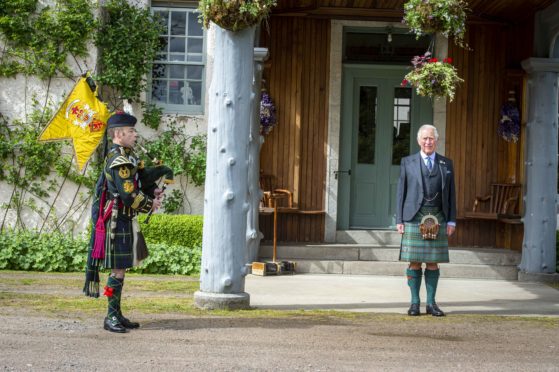 The Duke of Rothesay led commemorations of St Valery as hundreds of pipers around the world simultaneously paid tribute to the brave soldiers of the 51st Highland Division.
Lockdown restrictions meant that people had to mark the poignant anniversary without the type of public gatherings that such a milestone would normally merit.
But Pipe Major Richard Grisdale, piper to The Queen, led more than 500 pipers in Scotland and further afield as they played in remembrance to the sacrifices the regiment made 80 years ago.
Prince Charles, who is staying at his Birkhall home on the Balmoral Estate, took the salute from a piper in the morning.
The Duke said: "On 12th June 1940, after a gallant stand, the 51st Highland Division with supporting arms and services, including elements from English regiments, was forced to surrender to the German army at St Valéry-en-Caux on the Normandy coast of France.
"At 10am this morning, on this year's 80th anniversary, pipers throughout Scotland and further afield were on their doorsteps playing the celebrated march, the Heroes of St Valéry, in honour of the fallen and to remember a battle in which those of the Division displayed the greatest courage and tenacity.
"We remember all who served and who sacrificed so much."
It is thought the level of participants is a record for the greatest number of pipers playing simultaneously.
Musicians from as far afield as Peru and Kathmandu performed the Heroes of St Valéry, which was composed by Donald MacLean after his capture there in June 1940.
He spent the next four years as a prisoner of war.