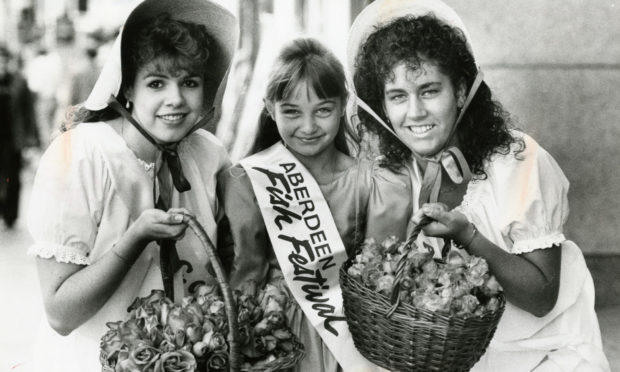 On the face of it, many would assume that a flower festival running out of plants would be a disaster.
But in August 1983, the organisers of Aberdeen's inaugural Rose Festival could not have been happier.
A celebration of horticulture had been planned, riding on the back of the city's impressive string of Britain in Bloom victories.
A total of 250,000 roses had been ordered for the event, all donated by local growers Anderson's and Crocker's.
On Saturday, August 20, volunteers took to the streets to distribute them far and wide – passing out free buttonholes to shoppers, diners, cashiers, drivers and traffic wardens.
The only exception were police marshalling a match at Pittodrie – the P&J reported – due to fear "of comments from football fans".
By noon, all of the flowers had been handed out by the city's "Rosegirls", with those in charge considering upping their next order to one million to ensure they could meet demand.
The festival was expanded and returned in 1984, featuring daily processions with a pipe band and the city's Rosegirls waving to onlookers from a horse-drawn carriage.
A youngster named Denise, the event's Rose Queen, was also flown to Glasgow to hand over a 250-rose display in the shape of a rainbow.
These acts grew grander as the years went by – at one point involving private couriers and a chartered flight to deliver two varieties of rose for a display in the background of that evening's Wogan talk show.
However Aberdeen Rose Festival also grew in another, perhaps less expected direction, when Aberdeen Fish Festival arrived on the scene in 1984.
As the streets filled with fragrant flowers, so too did they with north-east delicacies straight off the boat.
Fishmongers from across the region competed to present the best stall, while hotel balcony cooking demonstrations wowed the tens of thousands of spectators.
Appearances from the likes of Howards Way actress Suzy Gilmore and singer Fiona Kennedy added to the star power throughout the years, but organisers said the focus was always firmly on the fish.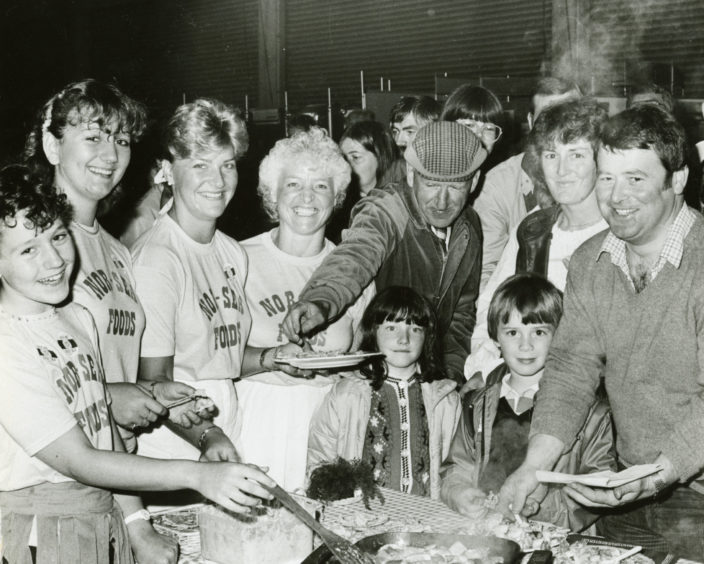 A write-up of the 1989 festival in The P&J described a new fish-filleting machine as the "highlight" of the event – adding that it had "really caught the public imagination".
And a star attraction in later years was the creation of a replica fish-house, where onlookers could see fresh catches arrive and pass through the stages of processing.
Fishmonger Ken Watmough took part in two festivals by setting up a stall.
He said: "It was very good PR for my business, as in 1982 I had taken over a very run-down fishmonger's shop in Thistle Street.
"This was also at a time when holidays abroad were becoming very popular and the holidaymakers, having eaten certain species of fish and shellfish while away, created a demand for them when they returned home.
"There was no source in Aberdeen then for this range but I established very strong links with international food importers by attending food shows at Olympia and Earl's Court in London and created a reputation for stocking fresh exotic fish species such as tuna, swordfish and shark and also a range of large exotic gambas prawns.
"The Aberdeen Fish Festivals gave me an extra shop window to promote my business."
Initially a separate event, the fish and rose festivals became synonymous over the years, eventually being marketed side-by-side.
They were so closely linked that posters distributed in the mid-80s illustrated the extravaganza with images of a dancing fish holding a rose its mouth.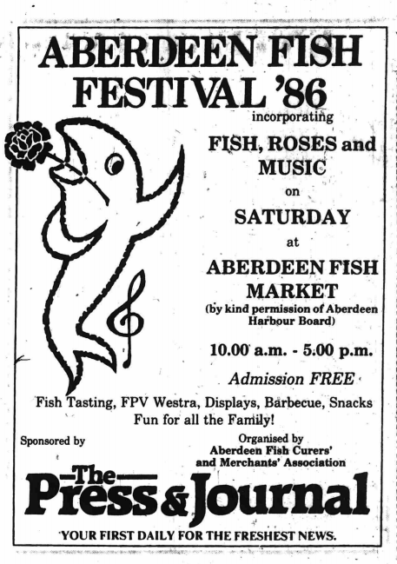 Like the floral gifts sent in prior years, seafood was also a popular present with the festival used to send it across the globe.
One year the two were combined, with specially-prepared boxes of roses and fish sent by road to mayors in cities throughout England and France.
Each included a goodwill message from then Lord Provost Henry Rae, explaining the reasoning for the "odd combination of products from land and sea".
In the years which followed, the festival was relaunched as Grampian Seafood Fayre and fully incorporated the oft-accompanying celebration of roses.
But, unfortunately, the growing popularity of the event also directly contributed to its downfall.
Safety fears led to the cancellation of the 1994 events, with officials saying an increase in weekend harbour traffic on the water was "incompatible with having 20,000 people milling around".
In recent years the unusual pairing of roses and fish has been overtaken by a more conventional pairing – namely oil and gas – in terms of attracting visitors to the city, and primarily for conferences and business meetings rather than floral fun.
---
Aberdeen's transformation from a city of granite to one of roses can largely be attributed to just one man.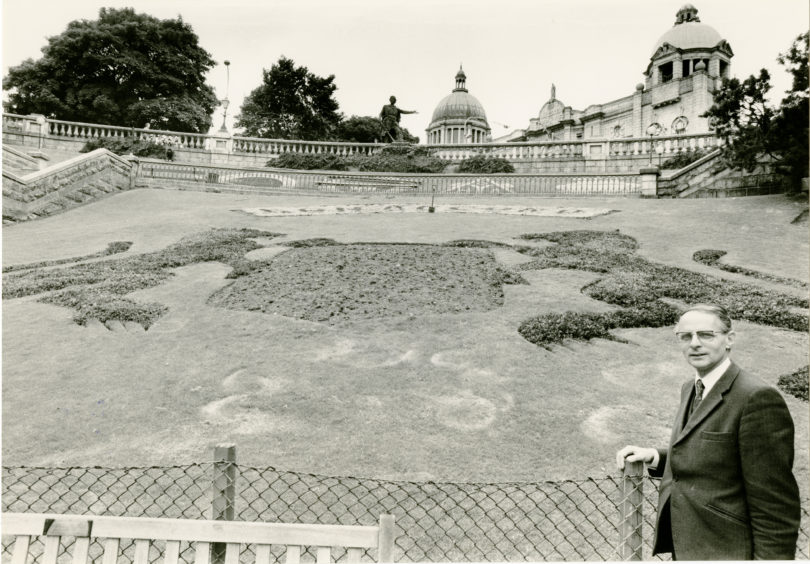 David Welch arrived in the north-east in 1967,  having previously worked as a horticultural officer in Blackpool and the head of parks and recreation in Bebington, Cheshire.
He immediately set to work on adding colour to the city, announcing plans to replace its grassy central reservations with rose bushes.
Mr Welch also embarked upon an extensive bulb-planting programme in green spaces throughout the city.
By the end of his 22-year tenure in the role, the city had gained two million rose bushes, 12 million daffodils and 30 million crocuses.
And starting in 1969, his work also helped Aberdeen take the Britain in Bloom crown 10 times – with 16 other commendations – in less than two decades.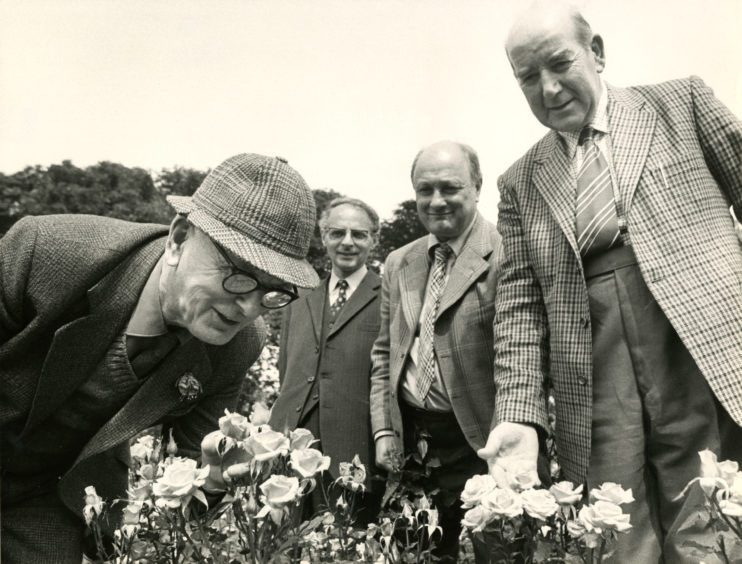 The city's success even caused it to suffer a short period of disqualification, so as to give other locales around the country a chance to take the trophy.
Mr Welch was also instrumental in developing improvements for the city's Duthie Park, including his eponymous Winter Gardens and The Rose Mountain, upon which 120,000 roses burst into colour every summer.
In 1992 he was appointed chief executive of Royal Parks in London, responsible for 5,000 acres of some of the most famous public spaces in the world.
Using what he had learned in the north-east, Mr Welch transformed some of these areas in pedestrianised spaces and reintroduced horses to some areas – another idea which had proved successful in Aberdeen.
He also used his skills to create a floral display to mark the golden wedding of the Queen and Duke of Edinburgh in 1997.