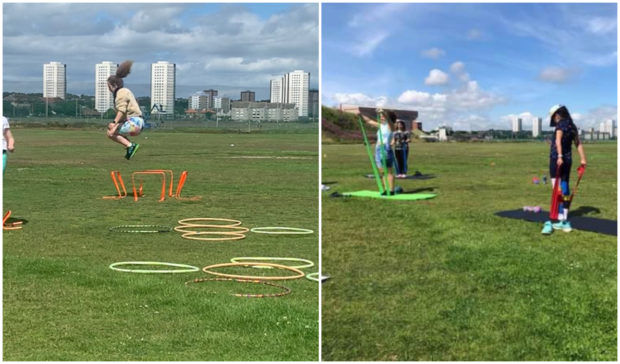 With no guarantees of when they can return to the rink, one Aberdeen ice skating coach has been pulling out all the stops to keep her students motivated.
Andrea Law has been conducting online training sessions and even roped in top names from the sporting world to keep her classes engaged during lockdown.
She is responsible for the Sk8tastics team, which trains at the Linx Arena in Aberdeen, with members as young as four through to adults.
In recent years the squad has travelled the country, earning top accolades for its prowess on the ice – and even performed a special routine at the opening of the Aberdeen Christmas Village.
Amid the pandemic, however, the teacher has been forced to take a different approach when it comes to training.
The coach is "constantly" taking private sessions off the ice over video-call, guiding people through exercises involving strengthening and aerobics.
Every week she develops a new dance routine and asks her students to follow along and record clips of themselves, which she then compiles into a full-length video.
Rather than doing this solely on her own, the skater has drafted in some sporting stars to help take keep fit and coaching sessions.
These have included Dancing On Ice skaters Alex Murphy and Daniel Whiston, French Olympian Surya Bonaly and British champion Phil Harris.
Before the local lockdown was put in place, she was also able to hold "mini camps" with small groups of skaters outdoors and in person.
Ms Law said: "This is the longest I've been off the ice in 40 years and I know how hard it's been, so keeping their spirits up was really important to me.
"Before lockdown the skaters worked so hard day in, day out – training to be the best they could be.
"With no ice, the only part of their training they could continue with was off ice, so that's what I focused on with them as I didn't want all they had achieved so far to be lost.
"They've all made me so proud, despite the changes they had to endure over the past months.
"Each and every one of them has stayed dedicated and worked so hard."
Zoey Partington's 17-year-old daughter Destiney has been part of Sk8tastics for a number of years.
She said: "Andrea has not stopped since the minute the rink was closed in March.
"Every single week she's giving them things to do, keeping them motivated and keeping their spirits up.
"She has really gone above and beyond.
"It's hard with everything going on just now with the kids – they're finding it difficult being away from their friends, but this is something for them to keep focusing on."
Dawn Gibson is one of the adult members of Sk8tastics.
After taking to the ice as a child, then occasionally skating for leisure as a teenager, she only picked up the sport again properly four years ago.
"Andrea has been great," she said.
"She's obviously doing a lot with the kids and going through the programme she had before lockdown.
"Every week she does a new dance routine too, which is another way of working out but it's fun.
"A lot of the parents have been amazed by what she's been doing.
"She has been really, really great and I think it's definitely kept a lot of the kids going."