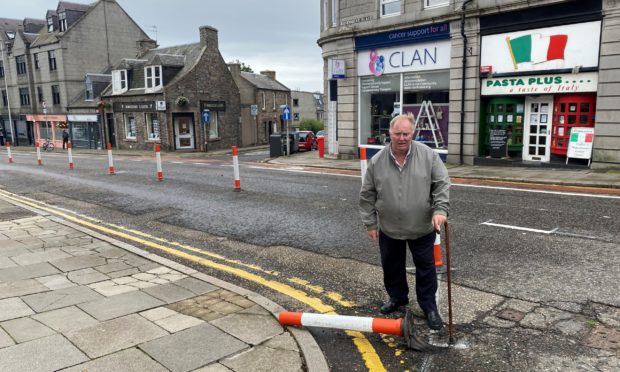 A pensioner has claimed bollards on an Aberdeen road are a "nightmare" after tripping and seriously injuring her leg.
Susan Lyness fell over the black base of a traffic cylinder which had been installed in Rosemount Place in a roads overhaul to encourage physical distancing.
Her fall, which is "not the first" the council has learned of, has led to the local authority committing staff to recalling all traffic cylinders rolled out for the £1.76m Spaces For People project so they can be glued together at the depot.
They were installed to make the temporary road changes more robust, replacing more easily removable traffic cones.
Ms Lyness, 71, caught her foot on the plastic base as she looked to navigate the one-way system imposed on the popular shopping street as she headed to a nearby ice cream shop.
Her daughter was left to help her up off the busy road and back home after her fall, which had caused her to pull the muscles along the back of her leg.
The pain was so intense that Ms Lyness later went to hospital and was relieved to find, after an X-ray, that she had not broken her hip.
She told The P&J: "I was crossing Rosemount Place at the top of Watson Street and I must have been looking for traffic to my right when my foot caught the base.
"It was so easy to do, going flat over the thing.
"With the road changes you are paying attention to where cars are going.
"The council has been to replace bollards but there are still some away again, they are a bit of a nightmare.
"Because I found it really difficult to even sit down, my daughter told me to go to A&E but nothing was broken.
"I've heard of people fracturing wrists or arms catching themselves after falls so it was fortunate.
"But a physiotherapist has said it would take around a month for the pain to go away and to get back to normal mobility."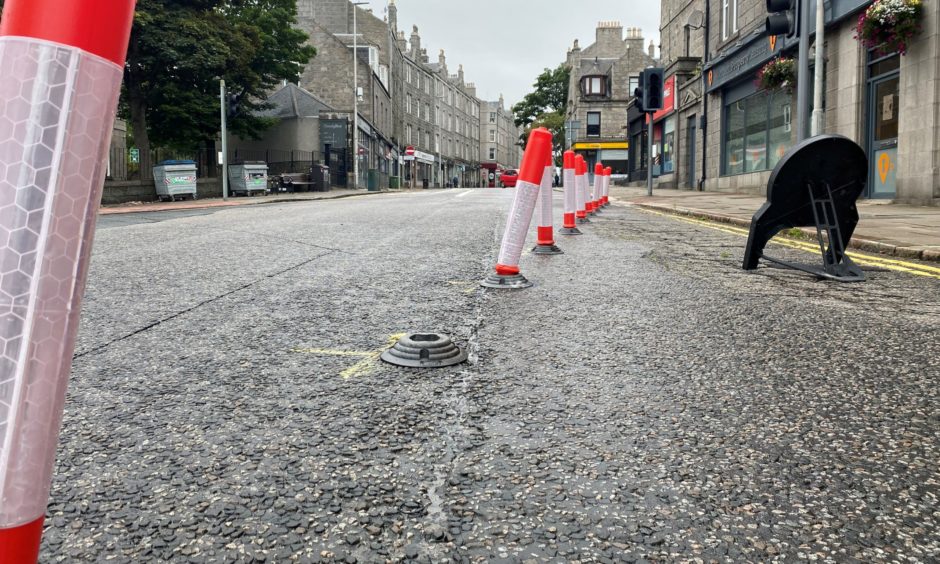 Council transport spokeswoman Sandra Macdonald wished Ms Lyness a "speedy recovery" but said: "It's not the first trip we've had and I'm sure it won't be the last.
"The bollard bases are the same colour as the tarmac and that is causing issues.
"Council officers are looking at using an epoxy resin solution so the cylinders actually stay in the bases.
"I have also suggested painting them a bright colour so people don't fall."
Ms Lyness reported the issue to Midstocket And Rosemount councillor Bill Cormie, who was given an assurance the council was checking for stray bollards daily.
Monitoring it himself, he said: "The acknowledgement I got was the roads team would review these cylinders daily, which they haven't being doing.
"These cylinders on the road are becoming a trip hazard and it's a serious issue – the sooner change comes the better.
"Fortunately, this was not a severe accident but it very well could have been a lot worse."