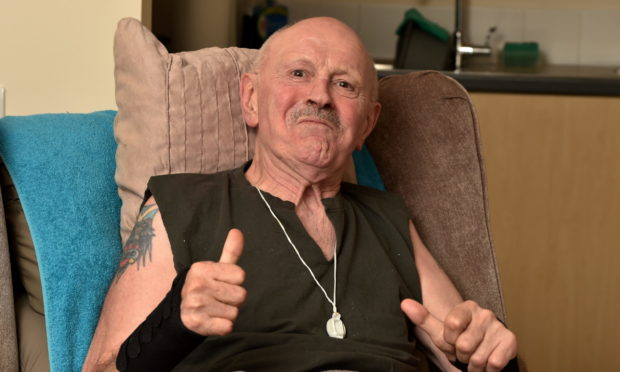 Left so frail by Motor Neuron Disease that he can no longer leave his home, Grigor Bannerman spends a lot of time reflecting on the past.
But the self-proclaimed "teuchter from the north-east who hit it lucky" has enough exciting memories to last several lifetimes.
After hitch-hiking from Forres to London as a teenager to pursue his dreams of a life in the rock and roll fast lane, he became pals with Johnny Cash and ended up rubbing shoulders with icons like the Bee Gees, Beach Boys and George Harrison as a roadie.
Mr Bannerman was diagnosed with the incurable muscle-wasting condition in March, but is thought to have had it since 2015.
And though the 68-year-old now wears a panic alarm around his neck where once a guitar strap was slung, his fiery character still shines as bright as ever.
He said: "I have had a wonderful time. I have toured the world, lived in Amercia and saw across Australia and New Zealand. I have so many stories."
In a wheelchair and house-bound, the pensioner is doing his best to remain positive as his condition rapidly deteriorates – forcing him to adapt to a much different pace of life to that which he enjoyed in his younger years.
His musical awakening came in 1969 when he helped set up the Victoria Hotel in Forres for a gig by rock band Toe Fat.
The lifestyle appealed to him, and he hitch-hiked aged 17 to London to begin his long and storied career as a roadie.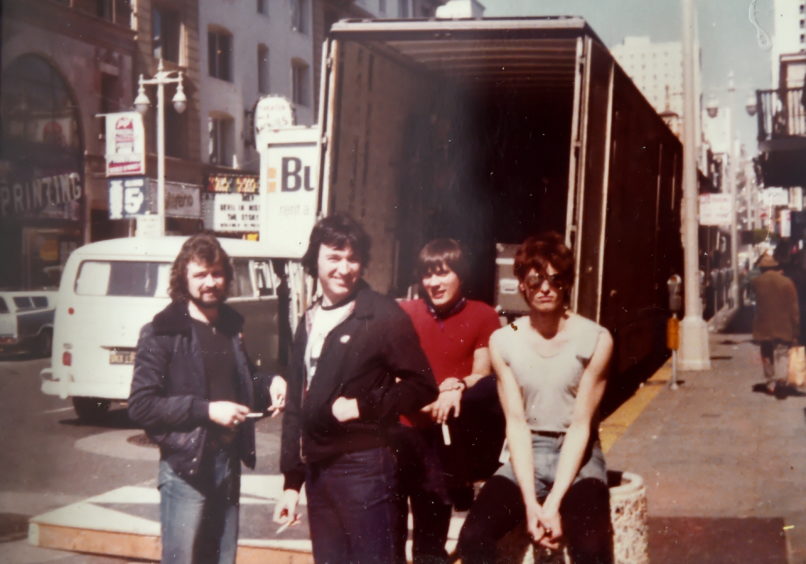 Although Toe Fat failed to go the distance, their members went on to work with bands including the Bee Gees and Uriah Heep – and provided the introduction into the music world that the youngster needed.
It is when discussing the decades he subsequently spent living out his boyhood fantasies with some of his music idols that Mr Bannerman's eyes truly light up.
He said: "Next I knew I was straight into Abbey Road studio and right in with the big shots.
"George Harrison was one of the first famous people I came across when he walked in."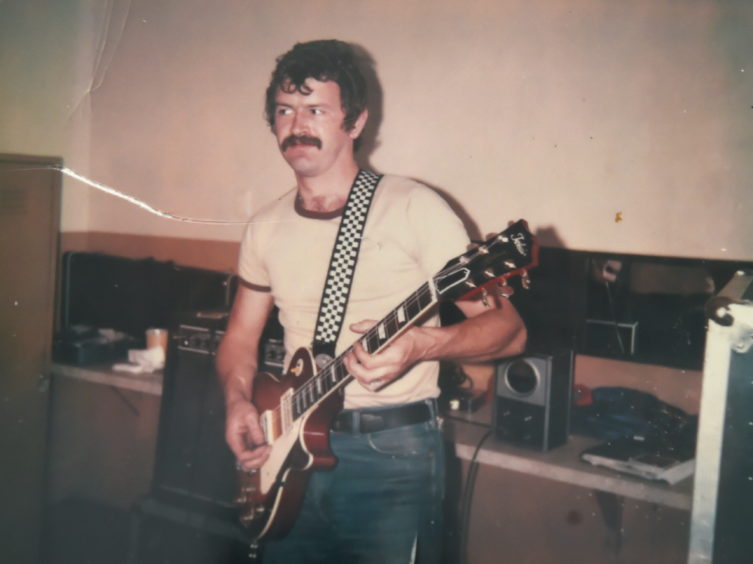 From there a 1980 world tour with Gary Numan followed, before work with music royalty including the Beach Boys, the Bay City Rollers, Steve Hackett and the Rolling Stones.
Mr Bannerman oversaw Iron Maiden's first tour and watched their rise to fame, became good friends with Johnny Cash during his 1993 UK tour, and even made it into print, getting a mention as the "Scottish roadie" in U2's book.
"When I was 28 I found myself in the airport with the option of work in America or Australia," he said.
"I couldn't make up my mind where to go so flipped a coin, landed in the USA and the Beach Boys were my first gig in DC.
"Later I worked with different bands every night on a rolling stage in Central Park. It was Diana Ross one night, then Billy Joel then Talking Heads.
"When I was roadie I had to do everything for the guys, tune guitars and get them on the stage.
"When I was tour manager I'd get them to the hotel, the gig, get their money and get the likes of Johnny Cash his coffee every day."
Closer to home he brought the Bay City Rollers to the Lemon Tree, Coldplay to Meadowbank in Edinburgh and in later years worked at the Aberdeen Exhibition and Conference Centre for Katy Perry and Tiny Tempah's gigs.
He added: "A few years ago somebody asked me if I would put them all in a book, so I did.
"I wrote down all my stories and memories in Forres library, but while publishers were interested they said they wouldn't dare print it for fear of getting sued."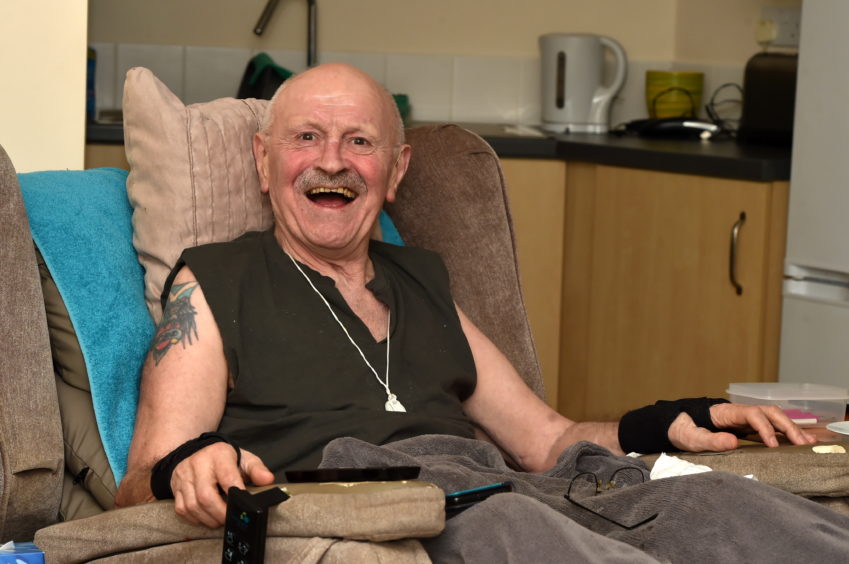 Leaving life on the road, Mr Bannerman settled down in Peterculter in his later years, but noticed something was wrong in 2015 when he had trouble with his legs.
Doctors believed it to be peripheral neuropathy, a condition affecting the nerves between the brain and spinal chord, or some form of stroke.
But Mr Bannerman said he "knew it was something like MND", and the plain-speaking retiree is brutally frank when it comes to his life with the illness.
He added: "You never think you are going to get it. But when they told me in March I kind of half expected it.
"I'm 68 though, I have done the business, got the t-shirts and done the world tours. I could be a 25-year-old man with two beautiful children dying of this.
"I would be quite happy to die tomorrow before it gets any worse.  Your brain stays alert while your whole body dies around you.
"I try to stay positive and have great help around me, but I would be happy to go before it gets worse."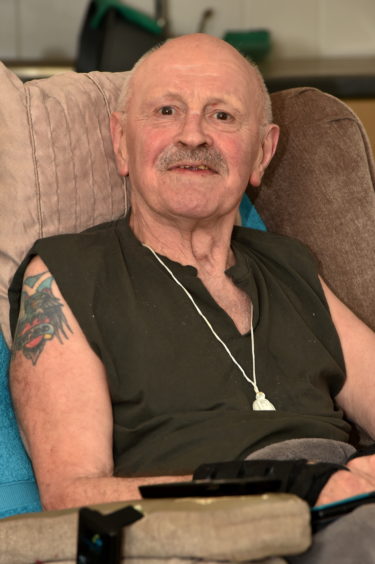 With his actor son James, 40, living in Huddersfield, Mr Bannerman is looked after by a team of health visitors including carer and friend Brenda Laing, who has "adopted him into her family" during the past couple of years.
Mr Bannerman moved in to a nearby assisted living complex in Coronation Court last week after his health began deteriorating rapidly.
Thankfully, his speech has been unaffected and he's now using his voice to raise awareness of the condition.
"I am no Mick Jagger, but I have had a good rock n' roll life and hope my story might stand out to people who might not otherwise take notice of the disease," he said.
"I have written a poem about it all, saying goodbye. I hope it gets shown to other people with MND in the future and helps.
"It ends with the words 'when all has been said and done I am away off down the road…goodbye'."