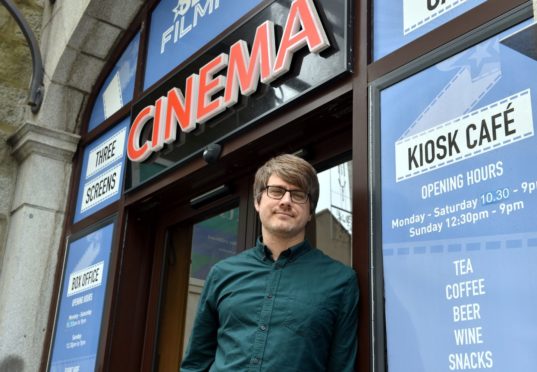 An independent cinema in Aberdeen has been given a cash boost to continue a programme aimed at tackling social isolation amongst old people.
Belmont Filmhouse has been awarded just under £10,000 of National Lottery funding to reinstate the "senior selections" programme after Coivd-19.
The project was postponed amid the pandemic but usually offers audiences aged 60 and over the chance to enjoy both classic and contemporary cinema.
Shown monthly, the films are picked by volunteers and attendees are able to share their thoughts over a cup of tea after the screening.
Head of cinema operations at Belmont, Colin Farquhar, welcomed the new funding to help continue the programme at a time when older people feel safer getting out and about.
He said: "It's really good to have that funding confirmed.
"We applied for money to continue our 'senior selection' programme – I think we started that with money we got from Tesco. It is aimed at people who have experienced issues around social isolation.
"We're seeing people come in just now and they, to my thought, haven't spoken to other people in a long time.
"You can't make assumptions about people but it does seem that some people are coming in who don't have many close connections."
The Filmhouse has experienced an increase in the number of older people attending to watch a film since it reopened, and noted that many enjoyed a conversation with staff members during their visit.
Yvonne Gordon, head of education and learning at Belmont Filmhouse, added: "We are delighted to receive this National Lottery funding.
"After a fantastic start in early 2020, we were sad to have to stop this much-needed activity, due to the Covid-19 outbreak.
"We have kept in contact with our senior volunteers and are consulting with them about the best ways to restart the programme next year.
"We look forward to welcoming film-loving seniors back to Belmont for film, fun and friendship in the not too distant future."
Trade dropped significantly when the venue first reopened with limited seating availability, but things are "slowly but surely getting better" as attendance has increased from 20% to around 35%.
The cinema is now figuring out how it will operate during the new Tier system and staff hope they will be able to continue trading after having "previously being deemed safe".
But looking back on recent weeks, Mr Farquhar is certain that even if there is another lockdown, customers will be confident in coming back to Belmont as visitors have proven they're a keen audience.