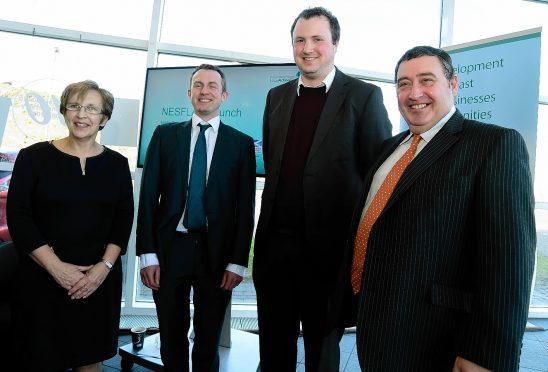 A new grant fund for coastal communities that could create dozens of jobs and is worth up to £3million was launched in Peterhead yesterday.
The cash will be distributed by North East Scotland Fisheries Local Action Group (Nesflag), a new body co-chaired by Jimmy Buchan, one of the stars of the hit TV show Trawlermen.
The scheme has been set up to support coastal communities from Sandend and Portsoy in Banffshire, along to Fraserburgh and all the way down to Angus.
Nesflag has been handed control of £1.4million to support the diversification of fisheries, job creation and promotion, and Mr Buchan said he hoped that figure could more than double with matched funding and private investment.
The launch event was held at the Scottish Maritime Academy in Peterhead and was attended by more than 60 people.
Mr Buchan, skipper of the Peterhead trawler Amity II, said: "This is support for coastal communities. Over the years, coastal communities haven't quite collapsed, but have been hurt by the lure of the big cities.
"This Nesflag money is to rejuvenate areas that have gone into deterioration. People love coming to coastal communities, whether it's for fish and chips or just for sightseeing."
Coastal communities in Aberdeenshire previously benefited from around £2million of European and private funding, creating 27 jobs.
Now, the Nesflag team believe the new organisation will make applying for a slice of the £1.4million on offer from the European Maritime and Fisheries Fund easier than ever before.
Projects which could benefit include new fish restaurants, expansions of small fishing harbours, and cash for community groups.
Mr Buchan added: "Hopefully, we have simplified the process – that was a stumbling block before."
When the creation of Nesflag was first announced, Mr Buchan's fellow co-chair Linda Hope – chief of the Scottish Maritime Academy – said the new funding would "leave a long-lasting legacy for the north-east of Scotland".
Mr Buchan became a local celebrity through his appearances in the BBC series, which followed the everyday life of skippers and their crews in the North Sea.