A north-east school girl was able to say "Hello" to Adele when she presented the pop superstar with a piece of homemade jewellery at a sell-out gig in Scotland.
Chelsea Duncan was "over the moon" when the Welsh singer bent down from the stage in Glasgow to take the handcrafted trinkets from her dad's hands.
The 13-year-old Peterhead Academy pupil designed the blue and green bracelet and a butterfly key ring especially for the Oscar winner after she discovered the art of beading in hospital.
Chelsea had been admitted to Aberdeen Royal Sick Children's Hospital at the beginning of the month after suffering severe pain in her stomach and back.
Doctors examined the teenager, but despite countless blood tests and scans, they could not determine what was wrong.
However, during her stay, Chelsea was taught how to bead and, as a result of the "fantastic" care she received in the hospital, decided to sell some of her jewellery to raise money for the ARCHIE Foundation.
Since coming out of hospital, Chelsea has made more than £500 from her artworks and was delighted when Adele put on one of her designs during her concert at the SSE Hydro.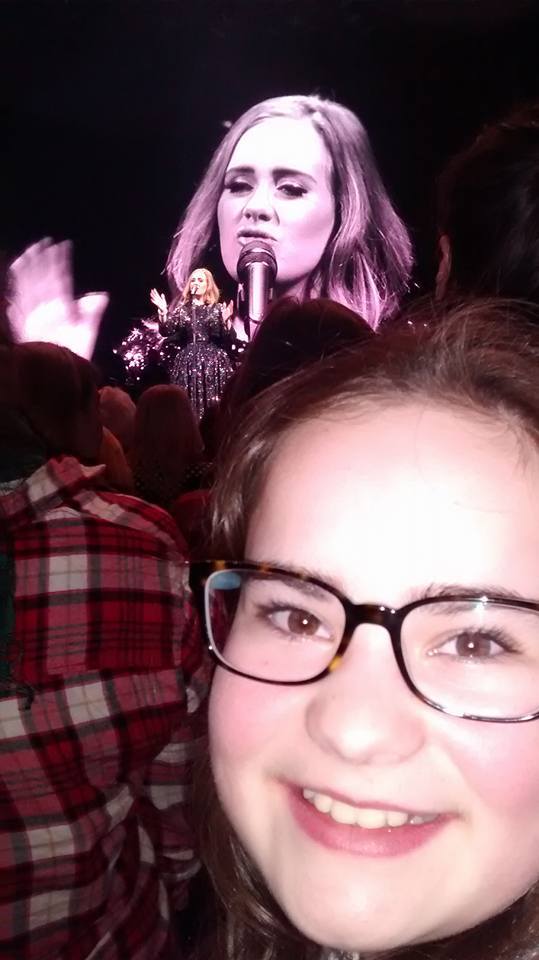 She said: "It was very, very exciting. It was amazing, truly a once in a lifetime experience."
During the gig, Adele spent her time moving between a large and small stage. Fortunately, Chelsea and her family were seated right next to the small diamondshaped platform which allowed her perfect access to the superstar.
Her mum Mhairi said that, when the superstar was approaching the edge of the stage, they just reached up and passed her the jewellery.
Adele was delighted with the homemade gift and put the bracelet on straight away. She also promised to attach the key ring to her bag at the end of the show.
During all the excitement Mrs Duncan was able to capture the special moment on her mobile phone.
Last night, Chelsea said she hoped that now Adele has one of her bespoke pieces, other people might also be interested in buying them.
She said: "I had such good care at the hospital. I was terrified of needles before I went in there and the activities put on by ARCHIE helped take my mind off being ill.
"They also allowed my mum to stay in a bed next to me. I just wanted to raise some money for them so they can continue to do what they have been for other children like me."
Chelsea said she was so impressed by the care she received at the hospital that she now wants to train to become a paediatric doctor.
For more information about Chelsea and her fundraising visit
https://www.facebook.com/chelseasarchiecharitychallenge
or
https://www.justgiving.com/Chelsea-Duncan1