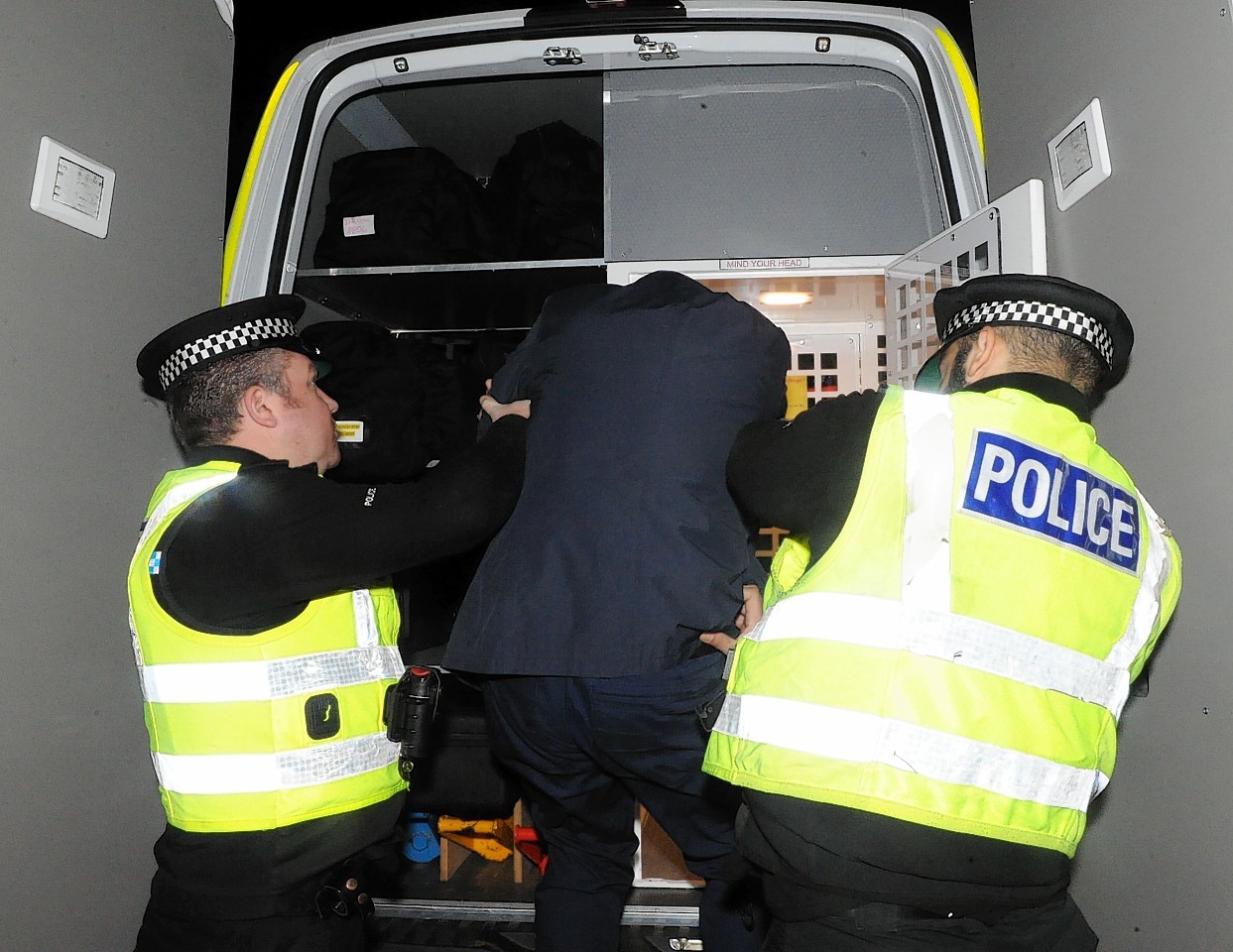 Violent crime across the north-east has soared in the last year – with nearly 100 people seriously hurt in attacks in the last three months.
Police last night vowed to crackdown on offenders by stepping up patrols in nightspots across Aberdeen, Aberdeenshire and Moray.
New figures released by the force show attacks have shot up by 10% since April compared with the same time last year.
And the number of those resulting in a serious injury – ranging from broken bones, loss of consciousness, a chipped tooth, to wounds that may lead to permanent scarring – have risen by 52%, from 63 last year to 96 this time round.
Chief Inspector Murray Main, who leads the prevention strategy for violence, issued a stark warning to would-be attackers.
"There has been an increase in violence across the north-east and we are taking action to address this," he said.
"My message is quite clear – in the space of just a few seconds and just one punch, you could risk losing your freedom.
"These incidents not only impact on the victim and their friends, family and witnesses but on the perpetrator, their friends and family too.
"We will do everything we can to ensure those responsible face the full consequences of their actions."
The latest figures, which relate to April-June, show most of the attacks happened in May, when there were two bank holiday weekends.
Officers will now be carrying out additional patrols, while also continuing with the recently-launched Operation Pine that focuses on tackling violent crime.
Ch Insp Main, who said the increase in crimes was also likely due to a change in how they are recorded, stressed that the north-east remained one of the safest places to live, work and visit but admitted any rise in violence was a "concern".
He pointed to "front-loading" – drinking heavily before going out – as an increasing problem.
He said: "It's no secret that excessive alcohol consumption is the biggest contributor to violence-related crime and it will also come as no surprise to hear that the majority of offences happen late on a Saturday or early in a Sunday.
"Alcohol itself doesn't make people violent, but it lowers inhibitions and increases risk taking behaviour, however this is not something confined to licensed premises – over 30% of serious assaults occur in a residential setting.
"The licensed trade has worked very hard and responded positively, showing a real willingness to eradicate problems and reduce incidents of violence.
"But they are limited to assist with the relatively new phenomenon of front-loading, where individuals consume large quantities of alcohol before going out.
"The sharing of information, expertise and targeting resources is key to achieving long term reductions and an even better quality of life for a significant number of people in the north-east."
John Thomson, NHS Grampian's clinical director of emergency medicine said he was backing the efforts of the police to reduce violence.
He said: "The emergency department continues to deal with a significant number of victims of assaults and other acts of violence on a daily basis.
"Injuries sustained after a violent incident can range from being relatively minor cuts and bruising to life-changing for the victim and their family and, unfortunately, sometimes resulting in death.
"We fully support Police Scotland in this endeavour to reduce the number of assault and violent crime."
Year on year; crime is up 10%
The figures show that since April, violent crime has risen 10% compared to the same quarter last year.
In Aberdeen, there were 27 assaults in the north of the city and 34 in the south.
In north Aberdeenshire there were 12 assaults, with 17 in the south. There were six assaults in Moray.
According to the police figures, 81% of the people involved in serious assaults, both as culprit and victim, are male.
The average age of victims is 29 and for attackers this is 27.
Last night Councillor Martin Greig, chairman of Aberdeen Community Safety Partnership, said: "It is greatly reassuring that the vast majority of violent crimes are detected.
"Victims are very well supported by our local police.
"It is worrying that we are faced with the consequences of the change in recording crime categories. The figures on serious assault suggest a sudden and major increase.
"However, this is essentially due to expanding what is counted as serious.
"Unfortunately, it looks like a huge rise when the situation on the ground will not be so dramatically different. It is good to see the continuing police commitment to tackle violence."