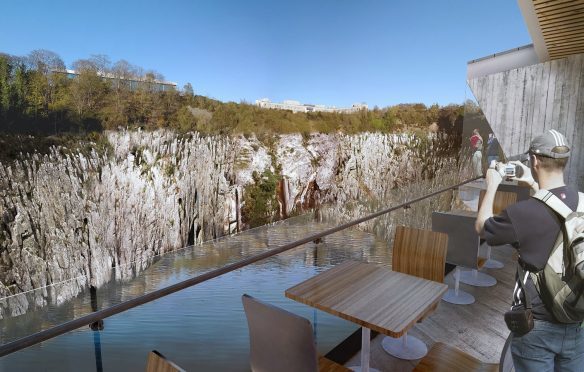 Fans of Aberdeen's most famous export could be asked to help fund a heritage centre aimed at attracting visitors from across the world.
Developer Hugh Black is determined to secure the financial support needed to build a museum celebrating granite at Rubislaw Quarry.
And he is now considering launching a public fundraising campaign to back up applications for government and heritage funding.
The quarry – once the biggest man-made hole in Europe – returned to the spotlight this week when plans were unveiled for a £25million housing development.
Canada-based private equity firm Carttera is behind the proposals for 280 apartments overlooking the now water-filled chasm.
And Mr Black yesterday vowed to realise his own vision – dreamed up with late business partner Sandy Whyte – alongside the new homes.
The pair bought land for the project in 2010 with the aim of turning their city's "best hidden treasure" into a heritage gem.
Mr Black indicated that finance options included a "crowd-funding" scheme that could see local people asked to chip in early next year.
Granite City residents had responded positively to the prospect of such a celebration of its heritage, he said.
"We are having ongoing, positive discussions with the council, Heritage Lottery Fund and Scottish Enterprise to ensure this project goes ahead some time in 2017," he added.
Aberdeen City Council – which has granted planning permission – is keen to discuss what role it can play in the project.
Depute leader Marie Boulton said it could play a major part in efforts to exploit the city's tourism potential to offset the oil and gas crisis.
"It would be a massive attraction not just locally but for people right across the world wherever Aberdeen granite has gone," she said.
"It has been used in all the far-flung corners of the world and being able to visit its source would be quite a draw.
"It is a very important development as far as the council is concerned. There is a lot of support among elected members for it."
Rubislaw Quarry opened in 1740 and around six million tonnes of granite were taken out before it closed in 1971.
It can be seen in cities across the globe.
Mr Black's plans include a museum, educational suites, meeting rooms and a restaurant.