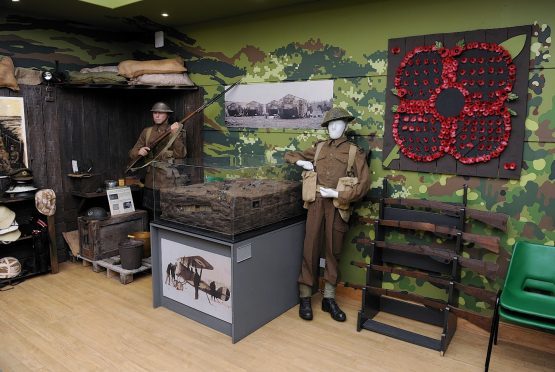 A former Gordon Highlander has joined the battle to save the regiment's cash-strapped museum from closure.
Last month, the five-star attraction revealed it would have to raise £300,000 during the next three years to stay open, because its profits were being severely dented due to the oil and gas downturn.
The facility's corporate event bookings have dropped by nearly 60% since the crisis began, with its profits plummeting by 80% during the same period.
Andrew Robertson, 51, served with the highlanders from 1982 to 1990, where he was stationed in Belfast and Germany among other places.
Mr Robertson, who retired as a lance corporal, now runs the Whistle Stop Triple Shop in Aboyne, which sells mainly toys, sweets and arts and crafts.
And, when he heard the news about the museum's financial troubles, he decided to use his business to help raise as much cash as possible for the charity.
He said: "We already lost our regiment, so we can't lose the museum too.
"We've started taking in second-hand items just now and any money we make from selling that will be handed over.
"The museum has also given us items from its shop to sell on their behalf too.
"It's a fantastic family regiment, we still have gatherings every year, and there's a lot of support behind the fundraising campaign."
The Press and Journal has already donated £10,000 to the campaign, which has also received a number of generous donations.
Mr Robertson added the threat of closure had struck a chord with people across the north-east, given how the regiment is such a central part of the area's history.
He said: "There's fishing and there is oil and gas, of course, but the Gordons mainly recruited in the north-east, and this is the heart of Gordon country.
"You can go into any village or town and you will find people with connections to the regiment, and not just one or two."
Anyone who wishes to donate to the campaign can either visit Mr Robertson's shop in the Station Square complex or sign up for a £10 monthly payment online.
For more information, visit www.gordonhighlanders.com