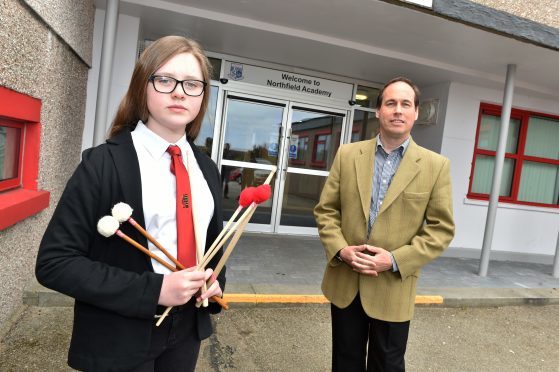 Campaigners desperate to save Aberdeen Music Centre bands have launched an impassioned bid to fight against the scrapping of overtime cash for tutors.
A petition and website have been started up by musicians, parents and supporters of the bands following the news that out-of-hours music tuition will not take place at the centre for the first term of the new school year.
The bands are currently under threat after the city council informed tutors of plans to change their working hours as the authority tries to plug a £77,000 funding gap. Tutors currently get paid overtime for extra hours on the weekends but, under the new plans, hours would be divided up equally so no overtime is paid.
Aberdeen Music Centre's future in doubt after overtime cash row
A resolution between tutors and the council has still not been sorted out, and campaigners are fearful that the service could significantly diminish or disappear altogether.
Fiona Blunsdon, whose daughter Clara, 12, has percussion lessons at the centre, has helped prepare www.saveaberdeenmusiccentre.com in a bid to raise awareness and backing for the cause.
She said: "Music should be a priority. There are numerous studies that expound the benefits for all aspects of education if a child is involved in music."
In February, former city council finance convener Willie Young vowed that there would be no cuts to music services. He said: "We will not cut the music service. That's not going to happen, we will not take that cut – it's a cut too far.
"As far as we are concerned, we would like to enhance the music service."
In the last school year, six groups of musicians were taught on Saturdays, including the Intermediate Wind Band, the Junior Wind Band, Initial/Beginner Strings, Junior Strings and Intermediate Orchestra. Each pupil was charged a flat rate of £50 for out-of-hours teaching per term. Youngsters travel from across the north-east for lessons, with minibuses put on by the council from rural areas.
An Aberdeen City Council spokesman said: "We can reassure parents that we will resume negotiations when the music instructors return from their summer break.
"We should point out that, since the 2013/ 14 financial year to 2017/18, the music service budget has increased from £800,000 to £1.08million. This increase of over £280,000 evidences a continued investment from ACC in the provision of Music Tuition across the city. There has been no budget cut to this service despite claims to the contrary."