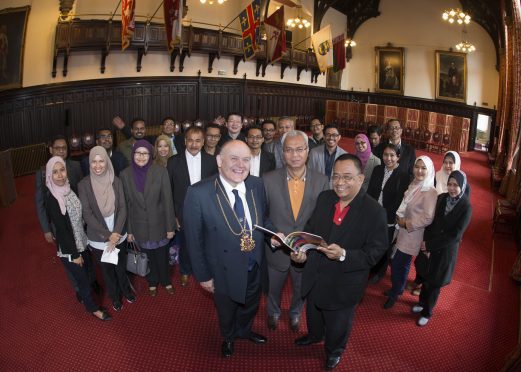 A delegation from the Far East has travelled to the north-east to learn lessons on city planning.
The Malaysian party, who included many local and national government officials, visited the town house and met with Lord Provost Barney Crockett.
Presentations from council officers included an overview of the projects and services delivered by the council and the ambitious city centre masterplan.
Mr Crockett said: "We have always been an outward looking, international city and I was very pleased to welcome the delegation from Malaysia to Aberdeen and to share our experiences with them."
Khairul Nizam Bin Othman, head of centre of town planning and urbanisation studies at the Urban Wellbeing, Housing and Local Government Institute, said: "I like how the council is working to maintain its ancient buildings and considers these when planning new developments.  I think modern cities should encourage people to come to the city.  Aberdeen is a very impressive place."
Ismail Bin Muhamad, director of urban planning, Subang Jaya Municipal Council, said: "To me Aberdeen is a combination of old and new, which you can see from the buildings. In terms of the economy the city is now moving from oil and gas to commerce and I think this is a good move as the city could become an education hub like Subang has become an education hub for Malaysia."