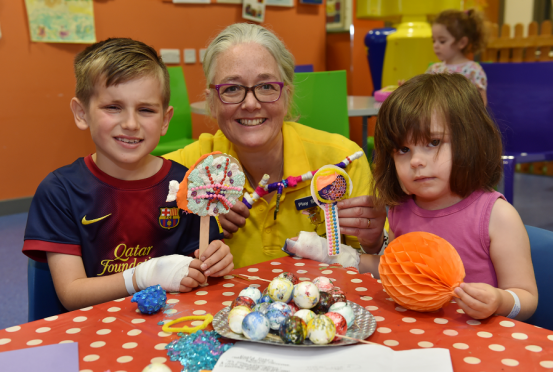 Youngsters at Royal Aberdeen Children's Hospital (RACH) let their imaginations run wild yesterday to create the centrepiece of a brand new fundraising ball.
Local artist Fiona Chance, originally from Dublin, has been working with children at the hospital this week to design decorations for the inaugural Children's Hospital Storybook Ball.
Inspired by the works of Roald Dahl, in particular Charlie and the Chocolate Factory, the young patient's masterpieces will have pride of place at the Chester Hotel on October 6.
Cash raised at the event will go towards backing the work of The ARCHIE Foundation, the charity which supports sick children and their families during their stay at RACH.
Ms Chance worked with the youngsters to bring out their artistic side and showed them how to paint, sculpt and carve the centrepieces to reflect the different levels of Willie Wonka's famous chocolate factory.
She said: "ARCHIE fund so many hidden extras around the hospital, from staff, to equipment, to entertainers, to family accommodation – the list is just endless.
"Because of this, I jumped at the opportunity to work with the children on a Charlie and the Chocolate Factory design for ARCHIE's storybook ball.
"I'm looking forward to pulling all the children's creations together to make a colourful centrepiece for the ball."
Claire Bush, head of fundraising for The ARCHIE Foundation added: "It's really great to see Fiona and the children working together to create something for the Children's Storybook Ball.
"The ball will raise money for RACH, and so this will be a really special centrepiece indeed."
The charity is seeking local businesses and organisations to support the ball.
If you would like to buy a table or become a sponsor, please email Claire@archiefoundation.org.uk or call 01224 559559.