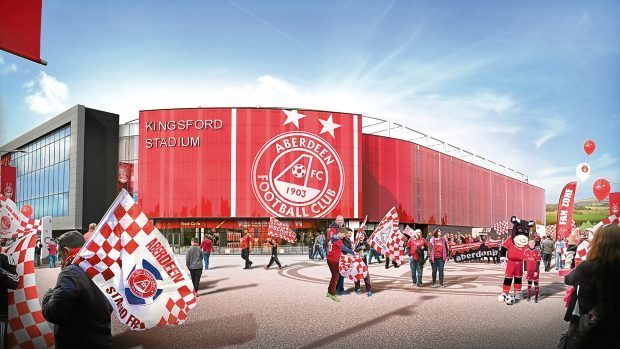 Dons fans would have to travel to Dundee to see their team play in European matches if the proposed £50million stadium does not go ahead, council officers have said.
The controversial plans for the Kingsford stadium project will be debated next week, when members of the public get to have their say at a pre-determination meeting.
The meeting – held in response to the huge swathe of public representation lodged – gives those registered the chance to voice their opinion, which councillors will consider as they make a final decision later this month.
Now fresh consultation responses to the proposals – which includes a 20,000-seat arena, training academy and heritage museum between Westhill and Kingswells – have been released by Aberdeen City Council.
The local authority's roads and economic development teams are included in those responses, where they consider the impact of rejecting the propsals on the club and wider north-east economy.
There has been dispute over the Dons' claims that the new stadium is needed to continue playing football at a European level, with objectors pointing to teams across the continent with worse facilities than Pittodrie who play in European competitions.
But the economic team's submission reads: "Without a new stadium, AFC's European matches would have to be played in Dundee whilst the ability to compete for friendly or underage football events, or rugby related events, could be undermined."
In a detailed analysis, the civil servants say the development would create a "centre of excellence" for sport in the region and add around £9.5million a year to the economy and create 347 to 408 full time jobs.
Last night, a club spokeswoman said that new UEFFA rules on the likes of dressing rooms, pitch run off and disabled access were not met at Pittodrie and the Dons would need to play European games in Dundee or even a central belt stadium.
But last night the No Kingsford Stadium group said this assertion was "simply ridiculous".
Objectors have continually pointed to the loss of green belt land and increased traffic in the residential area.
Aberdeenshire Council has also maintained its objection to the move saying raising concerns about footfall over a planned new bridge and said "major assumptions" had been made by the club on the potential economic boost.
But the authority's recommendation is advisory, with the final decision in the hands of city councillors.
Raymond Edgar, project director for Kingsford, said: "The environment and facilities created at Kingsford could lead the way in Scottish football, become the envy of other Scottish clubs and provide a centre of excellence which, when combined with other sports facilities, will make the North-east a sporting powerhouse."
The No Kingsford Stadium group said in a statement: "NKS do not support the AFC claim that Pittodrie does not comply with UEFA requirements…
"The fact that AFC have stated that they could play in Dundee, where the grounds at Dens Park and Tannadice have similar constraints to Pittodrie, is simply ridiculous."