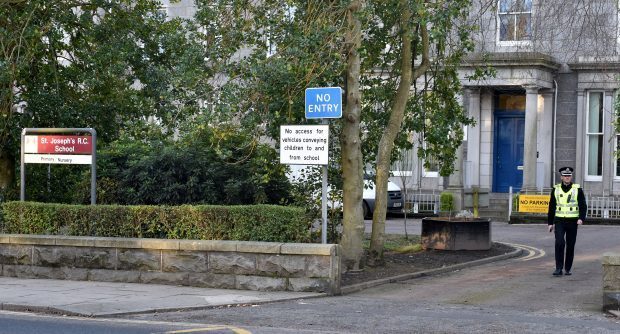 A primary school pupil was rushed to hospital after a large chunk of a playground mural collapsed on top of him.
Ambulance, fire and police teams were sent to St Joseph's on Queen's Road, Aberdeen shortly before 9am yesterday after receiving reports that a section of wall had fallen on an 11-year-old boy.
He was taken to Aberdeen Royal Infirmary with an ankle injury.
Aberdeen City Council, alongside police officers and the Health and Safety Executive, are now investigating the incident and could yesterday be seen inspecting the scene of the incident.
Queens Cross councillors Martin Greig and John Cooke urged the council to make sure the issue that caused the mural to break isn't widespread.
Mr Greig said: "We need to know if this was an isolated problem, or if there are other parts of the school infrastructure that are at risk.
"The council needs to be proactive in inspecting possible hazards and dangers."
Mr Cooke said: "I'll be asking officers for reassurance about the fabric of the building, so that pupils, parents and staff can be confident that this won't happen again."
Following the incident, the colourful mural adorning the wall at St Joseph's was left with a gaping hole several feet wide.
A spokesman for the city council last night said: "Staff at the school have been liaising with the pupil's family and will continue to receive updates.
"The best wishes of all at St Joseph's have been passed to the pupil.
"Our thanks go to colleagues in the emergency services and school staff members who responded quickly to the incident. In line with procedure, HSE was notified and is
investigating and it would not be appropriate for Aberdeen City Council to comment
further on specific detail.
"We are also conducting our own review into the circumstances. The area affected has
been securely fenced off whilst the investigation takes place."
The spokesman added that precautionary checks will be carried out at all Aberdeen City Council schools to avoid any similar
mishaps.
Aberdeen South MP Ross Thomson said: "This is an alarming incident that will
be very worrying for all parents,
staff and pupils and St Joseph's."