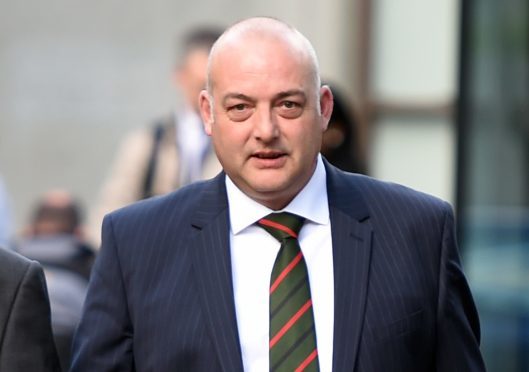 A whistleblower sacked after raising concerns about drug abuse and significant health and safety breaches on a major construction project fell victim to "character assassination", a tribunal has ruled.
The panel found that energy giant Vattenfall tried to sweep allegations of drug use "under the carpet" on its Blackdog windfarm.
Roger Hammond, 47, worked as site manager at the Aberdeen Offshore Windfarm (AOW) substation before being dismissed by the Swedish firm.
This week he was awarded tens of thousands of pounds in lost earnings after an employment tribunal concluded he had been wrongfully dismissed after making "protected disclosures".
Mr Hammond took legal action claiming he fell foul of his bosses after he alerted them to an incident where the site's health and safety officer Janette Fullerton-Draper allowed an 11-year-old girl to drive a digger on the site while contractor JM Murphy's (JMS) regional manager Robert Young held onto the side of the vehicle.
He said this was exacerbated by his reporting of a night out where he alleged JMS staff filmed themselves taking cocaine.
Vattenfall argued Mr Hammond's dismissal had been sparked by incompetence and "personality difficulties" with colleagues, in particular Ms Fullerton-Draper.
His boss, windfarm project manager Adam Ezzamel, said the situation had been worsened by allegations from her that she had been sexually harassed.
In its judgement however, the panel said Mr Hammond had been a victim of "character assassination" while his former employers' evidence was "riddled with inconsistencies".
The judges found no evidence to support the harassment claims, which "were taken on face value", and said there as a "surprising lack of documentation" to support the firm's alleged reasons for sacking him.
And the tribunal also concluded the firm was uneasy about investigating the drug claims in case they became public and worsened its "already poor relationships" with local residents, landowners and JMS.
Last night Mr Hammond, from Warrington, said he felt that "natural justice" had been done and praised the judges for untangling what he branded the firm's "web of lies".
"I was fortunate that the panel could see through the deception and smoke and mirrors and tie the real facts together," he said.
"I'm glad I have had the chance to exercise natural justice and that has prevailed."
Vattenfall said it was "extremely disappointed" at the tribunal's decision and said it would endeavour to find what "lessons can be learned".
Andy Paine, deputy UK country manager said: "Vattenfall takes its obligations to all employees very seriously. Health, safety and environment and that of respect in the workplace are really important to us, and we continue to actively encourage all employees or anyone associated with our projects to inform us of any concerns."
It emerged during the tribunal that Vattenfall had failed to properly investigate Mr Hammond's claims around drug use on the site.
His solicitor Nigel Grundy read out e-mail correspondence with senior management in which a health and safety boss urged a cautious approach to the call for a blanket drug and alcohol test at the site.
In those exchanges, the firm's health and safety manager Jim Green revealed that  a similar test on contractors at Kingsnorth Power Station in Kent found 80% of tested staff had drugs or alcohol in their system, "up to director level".
The tribunal ruling stated: "It was clear from the email exchanges on February 7 after the claimant had raised his concerns that they were reluctant to do so, fearing, we believe, adverse publicity and making the already poor relationships with JMS, the local residents and adjoining landowners even worse.
"We were driven to the view, therefore, that Vattenfall wanted to 'sweep these matters under the carpet', as the claimant's counsel put it, and had decided that the best way of doing that was to remove the claimant from the site, the person who had raised concerns they were uncomfortable with."